New TV3 current affairs show has New Plymouth spinning out over sympathetic coverage of wheel clamper.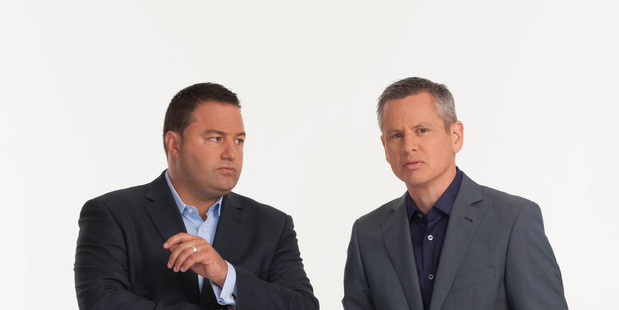 New Plymouth city bosses are looking at clamping TV3 after the debut of its new current affairs show 3rd Degree on Wednesday.
District mayor Harry Duynhoven was consulting councillors and affected businesses yesterday on whether to complain about the 3rd Degree story about the city's obstreperous clamper Daniel Clout. The item - sympathetic to Clout - screened on Wednesday and gave the clamper's side of trials with police, officialdom and numerous local people.
It presented Clout's view, that police advice to the public was making him unpopular in the city. Duynhoven complains he was set up for his interview by Melanie Reid, and is furious about what he said was TV3's lack of interest in the views of people who had clashed with Clout. "The programme was a disgrace and extremely biased," he said.
Dispute over role
The Taranaki Daily News has covered the issue over a long period, including issues that were not detailed in the 3rd Degree story.
I won't relitigate the dramas, which appear to be ongoing, and it appears that local media have focused on views critical of Clout.
But the mayor may find that if there was any breach of journalistic expectations, it was really just the thoughtful style many people might have expected after the show's promotion by TV3.
Still, that is commercial TV for you. It was essential for TV3 that the debut for this well-resourced new series performed well, especially as TV3 is using current affairs as a key weapon against TVNZ.
The hope among viewers who lament the state of TV current affairs at TVNZ is that 3rd Degree will deliver on its promise of investigations, and that if TV3 makes serious current affairs it will earn good ratings and secure its future.
TV3 said 3rd Degree had a great start - kicking off with a 15.1 per cent share of the audience aged 25-54 - 114,000 viewers across TV3 and TV3plus1.
It took a 16.2 per cent share of the 18 to 49-year-old age group and a 16.8 per cent share of the total audience aged over five: a total of 283,700 people.
Faux Guy
The other half of the show was on Anna Guy putting the past behind her and getting on with life.
You can only hope that TV3 can do the same - and move on to help the integrity of the show.
Hosts Duncan Garner and Guyon Espiner made no secret they were not happy with the story.
Executive producer Terence Taylor said Guy's story was valid and rejected a suggestion it would frighten off people who expected more solid fare. People were interested to find out about Guy's unique experiences, he said.
But TV3 did nothing for the credibility of Garner and Espiner with the pre-recorded faux grilling of Guy.
TV3 insists that the interview was not heavily edited.
Chapman Tripp
I was always a fan of former journalist Linda Clark when she was on television and radio. She gave up journalism in 2006 to train as a lawyer and has been working at the Wellington law firm of Chapman Tripp, which lists her specialist skills to clients as her expertise at government relations and working on social issues. She says she mainly worked on litigation nowadays.
I wonder whether Clark is the ideal choice to be given the role of "referee" on The Vote - a series of 10 issues-based debates that will be co-hosted by Espiner and Garner and which will run every fourth week in the 3rd Degree timeslot.
TV3 promises there will be a meaningful exploration of public issues - something that has been sadly missed.
Clark was probably championed by Garner, who is a close personal friend. And there is no reason to believe she would not declare any potential conflict of interest with regard to her clients.
It is rare to get New Zealand On Air support for a serious current affairs programme and you wonder if TV3 might have looked elsewhere for someone who did not have any issues of potential conflicts of interest. John Campbell maybe?
Easy going
One thing you can be sure about is that having Clark as referee of the show will be good publicity for Chapman Tripp.
But she does not think the government relations work will clash with her current affairs role. Clark insists that does not make her a lobbyist and she does not mix in the lobbying set around Wellington.
"I do get called in ... when clients have some sort of interface with government but I don't see that as posing a problem here. I had an honest and grown up discussion about it with TV3. There are 10 programmes for the year, if I have a conflict I will declare it."
Clark said that her role at Chapman Tripp was not comparable to the potential conflict issues facing Newstalk ZB host Mike Hosking or to the situation of host of Back Benches Wallace Chapman, who fronts advertorial pieces on TVNZ.
Is she the best person to do the job though?
"If I have a conflict I will disclose it and will talk about it. If we cannot find a way to deal with it I will not appear on that programme," she says.
"In this role on The Vote I am not a presenter or a journalist. I do not consider I am a journalist."
She was concerned that this column's coverage of her appointment was fair.
"I am concerned about it because I am protective of my reputation ... and so is Chapman Tripp," she said.
Sharp end
The format for the TV One 7pm show Seven Sharp seems to be settling down. TVNZ has lost Close Up's lead over TV3's Campbell Live so that now they are very close in the ratings.
TVNZ head of news and current affairs Ross Dagan, who was involved in creating the format under instructions from the marketing department, claimed recently that Seven Sharp had "got its mojo".
Dagan leaves for Brisbane on March 28 to work for the Seven Network.
Heather Du Plessis Allan is one reporter who has delivered the energy the show needs.
And it may be that having settled down, it might rebuild a lead on Campbell Live , though that would be surprising in the current climate where Campbell Live is doing so well.
Behind the scenes I hear things are not so cheerful.
A source said that of the three hosts Greg Boyed has been taken askance by the critical put downs of the show.
What do you think?
Have your say on this column at nzherald.co.nz/business