Soccer team risk crashing down in flames simply to suit whim of investors with limited knowledge of the game.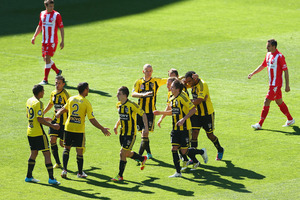 It all sounds so simple. The consortium of businessmen who own the Wellington Phoenix wants the team to play a more attractive brand of soccer. Ergo, it will happen. The side will be transformed overnight and fans will start flocking to Westpac Stadium.
If only it were so simple. Then there would not have been eight managers at British club Chelsea since mid-2003 when Russian tycoon Roman Abramovich took control and began his quest for a team that would both excel and excite.
Ownership does, of course, endow the right to demand a certain brand of soccer. In the case of Gareth Morgan's consortium, that involves what is known as total football. "We want a style of football that the club is known for and we will essentially hire coaches who give us that style," he said this month.
Wise owners, however, also recognise that their knowledge of the game is rather more limited than that of any professional coach. In the case of the Phoenix, that is certainly so with Ricki Herbert, who had a distinguished playing career and also coaches the All Whites.
Wise owners also recognise that a change in playing style takes time to embed. And that, in any case, a team that wins consistently playing any manner of style is a bigger drawcard than one that plays attractively but loses.
The Phoenix owners' ambition is laudable. But if they do not recognise that this must be tempered by their own lack of experience and expertise, stormy times lie ahead at the club.