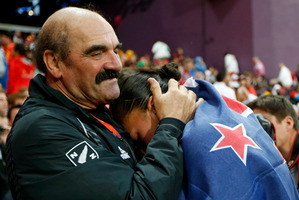 Coach Jean-Pierre Egger comforts Valerie Adams. Photo / Matt Dunham
I had always thought the exhortation to "tick all the boxes" was just another example of those meaningless management-speak cliches.
You know: Going forward; blue-sky thinking. That sort of thing.
But the administrative bungle that almost cost Valerie Adams and four other New Zealand athletes the chance to compete in their disciplines at the Olympic Games shows just how risky it can be to leave boxes unticked.
There was great consternation in the New Zealand camp when Adams, our star of track and field and the defending Olympic champion in the shot put, went to look at the list of competitors to see what time she was scheduled to compete the next day. You can imagine her horror when she discovered her name wasn't there.
It was only after desperate intervention by New Zealand officials, and a little bit of leniency from the Olympic organisers, that Adams and the other four athletes were included as late starters.
Adams had to settle for silver and although it seems unlikely that she would have beaten the eventual gold medal winner, Nadzeya Ostapchuk - even Adams herself didn't blame the bungle for being beaten - she pointed out it hadn't helped her preparation.
Even after her last-minute reinstatement, on the day of her event she was denied access to a number of areas of the stadium and there was no official bib for her just minutes before her throw.
A lot of high-performance athletes are finely-tuned machines. It doesn't take a lot to throw them off their stride. That's why they have a team around them to support them and help them focus on what they do best.
It was a bad mistake and quite rightly the New Zealand Olympic Committee has promised a full review as to how the paperwork was wrongly submitted and to put in place protocols to ensure it never happens again.
But if butt-covering was an Olympic sport, the New Zealand team's chef de mission, Dave Currie, would have won a gold medal for his efforts when he outed the woman responsible for the bungle.
At a press conference, he conceded that as manager of the team, the buck stopped with him - and then named and shamed Raylene Bates as the woman responsible for leaving the boxes unticked.
The poor woman was reportedly distraught, and understandably so.
Surely Currie could have left her name out of it? He's right. He is the boss. He does have ultimate responsibility for the management of the team. So he should have taken the snafu on the chin. Hardly an example of inspiring leadership.
The athletes and the administrators deserved better.