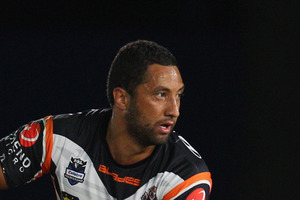 Warriors' playmaker will come head-to-head with veteran star Benji Marshall tonight.
Win or lose, Shaun Johnson can learn a lot in tonight's match.
The young Warrior will look across the pitch and see, in Benji Marshall, a player whose talent he can emulate and whose career he can follow.
In a one-on-one situation, these two blokes are among the deadliest playmakers in the NRL. Defenders often have no idea what Johnson and Marshall will do.
Both possess a sidestep that has to be viewed in slow-mo to be understood.
For both of them, coming through a touch footy background allowed them to hone the ability to beat a man and learn when to inject sudden pace.
It takes a while to master the balance.
Marshall's art is that he knows when to hit the low-percentage shot. He can spot in an instant when a defence has been wrong-footed and knows when to back his instincts.
In that respect, the Kiwis captain is ahead of Johnson.
But Johnson is improving. He's already taken huge steps in directing the team around the field - and don't underestimate how tough that can be for a young guy commanding hardened professionals around the park.
It can take a while for teammates to adapt to a five-eighths who plays so close to the line. With the Tigers, Marshall's teammates have come as close as could be hoped, and these days they're generally on the same songsheet.
Johnson is getting there, too.
Even their weaknesses are similar. While neither of these fellas is a doormat, it's fair to say that defensive channels filled by Marshall and Johnson haven't been the most feared in the NRL in recent times. But they're improving - if tackling's not your forte then it's a matter of concentrating on body position and technique. Johnson's learning fast.
So, who will shine tonight? Can the kid teach the teacher a thing or two?
The deciding factor could be the absence of Robbie Farah, the Tigers hooker who is away in the NSW Origin camp.
Marshall's ability on a quick play-the-ball is outstanding. Late in the play, he makes the immediate decision about when to throw himself into the line. He has the ability to sum up the situation quicker than anyone else, meaning he can appear in the right place at the right moment to deliver the pass or kick that counts. It's no coincidence that he is there - he is simply the best.
But take Farah out of the equation and things are a little different. From dummy-half, Farah straightens quickly and smartly - with decoy runners off him, he allows Marshall an extra half-second of time.
The Tigers have also struggled lately with some experienced figures dropping out of the pack.
So, in short, Benji isn't getting the half-second advantage on which he thrives.