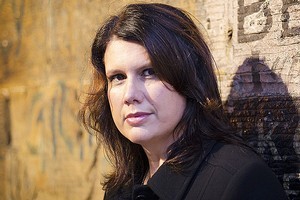 Expat New Zealand writer Paula Morris has travelled the word in her novels, from the cemeteries of New Orleans to the haunted city of York and the New York PR scene (as well as the streets of Auckland), but the inspiration from her latest release, Rangatira, came from closer to home. It was in her blood.
Rangatira fictionalises a 19th century journey taken by Ngati Wai chief Paratene Te Manu, Morris's great-great-great uncle (if I'm deciphering her family tree correctly).
The novel opens with Paratene posing for the artist Gottfried Lindauer in Auckland in 1886, and thinking back to an extraordinary voyage he made 20 years earlier, to Victorian England. (The painting is now in storage at Auckland Art Gallery but, as you'll see below, Morris took novelist's liberties with the story of its creation.)
We asked Morris about where the facts peter off and the imagination begins, the pressure to do justice to Paratene's story and what's at the top of her Christmas book wishlist.
Q: When did you first become aware of the story of Paratene Te Manu, and why did you decide to write about it?
A: When I was researching my second novel, Hibiscus Coast, back in 2002, I came across James Cowan's book Pictures of Old New Zealand. I saw the Lindauer portrait of Paratene for the first time and read the transcript of Paratene's own account of his life, where he talks about his various taua (war parties) and battles as a young man, and about the trip to England in 1863. I also discovered that he was one of the last owners/inhabitants of Little Barrier, along with my great-great grandparents, Rahui Te Kiri and Tenetahi. There was so much dramatic possibility in this story: I knew it wouldn't leave me alone.
Q: Tell us about the process of researching and writing Rangatira - how long did it take and where did it lead you?
A: I wrote a short story first, in 2003 when I was a student at the Iowa Writers' Workshop, and didn't do much research for this. (I am much lazier than people realise!) But after the story was published in a few different places the following year, I was nudged into re-thinking it as a novel. Everything blurs for me because I also seem to be working on 10 things at once, and moving to different places, and scrambling to earn a living. But I think research for the novel began in earnest in 2005. I spent a lot of time over five years in libraries and archives in New Zealand and the UK, and I also visited a lot of the places Paratene would have seen or known - Marlborough House in London, Birmingham Town Hall, Osborne House on the Isle of Wight, the sandspit at Ngunguru. Many people helped along the way.
Q: What effect has this journey of discovery had on you, as a relative of Paratene?
A: It's always interesting, trying to look at things from someone else's point of view, to make the imaginative leap. With a relative, perhaps you think more about resonances with your own life and character. When I think about the restlessness of Paratene's life, which was not untypical of Maori of his era, especially coastal iwi -all the moving from place to place at different times of year, or for protection, or warfare, or adventure, or commerce - I guess there are parallels of sorts in my own life. Paratene thought of several different places as home, and moved constantly between them. His decision to go to England was incredibly rash and eleventh-hour.
Q: Did your personal connection to the story make it easier to write, or harder? Did you feel an extra responsibility to do Paratene's story justice?
A: I'm not sure. For a long time the book was hard to write, but that was because I was unsure about the scope. Deciding to focus everything around the trip to England was key. It also meant I didn't have to research the entire nineteenth century!
The issue of responsibility is an interesting one. With any 'real-life' story there are issues of representation to consider, and I didn't want to invent a Paratene Te Manu who bore little resemblance to the historical record. I read whatever I could of his voice - the oral history, some letters, newspaper reports, court testimony - over and over, obsessively, to build a fictional character from the pieces of the real man that remain, and to try to understand what was important to him, what he cared about.
But the responsibilities of a family member, a biographer, and a novelist are not the same. A novelist's chief responsibility is to the reader, I think. We're not restricted to (or by) facts, and our way of honouring an ancestor is unlikely to be a straightahead eulogy. We're looking for complexity, conflict, story. This is one of the reasons I decided to focus on the English trip, where there is a lot of source material, including an amazing detailed account by Paratene of the voyage over. There was plenty of story there, plus a lot of historical record - and photographs.
Q: What were your starting points for creating the character of Paratene, and at what point did artistic licence kick in?
A: Reading letters by him (and by others that mention him) was very useful, but it's like finding 50 pieces of a 500-piece jigsaw puzzle. You have a start, but there's a lot to make up! Artistic licence began the moment I read the oral history in 2002. I started imagining the possibilities, the omissions, the bigger picture, the reasons. Researching a novel based in family history is detective work for a case that can never be solved. You have to imagine a lot of the twists and turns.
Q: What are the main departures from fact in the book, and why did you decide to write them in this way?
A: The book imagines a meeting between Lindauer and Paratene, with them spending long hours together in a temporary studio in Auckland in 1886. Their conversations punctuate Paratene's story of the English trip, so I needed them to have substantial amounts of time together. It's unlikely that they ever met in real life; Lindauer probably painted from a photograph. But I liked the idea of them talking about England, because Lindauer went there himself in 1886. And they had in common the experience of being in a foreign country, unable to speak the language - Paratene in England, and Lindauer when he first arrived in New Zealand.
In the novel, Paratene and Horomona Te Atua have two invented excursions together that I couldn't resist: one to the Alhambra Theatre in Leicester Square, Victorian London's most notorious music hall, and one to the London studio of the painter James Smetham. The story demanded these scenes, just as it demanded that the two actual appearances in Birmingham Town Hall be conflated into one, for example.
Q: Describe the experience of seeing the Lindauer portrait of Paratene up close for the first time.
A: Brilliant. Very moving and exciting. I would love to see it again, hanging on the wall of the Auckland Art Gallery. I would fly home just to see it. I would visit it every single day.
Q: Favourite book, ever?
A: This is the hardest question of all. The first title to enter my head is Lucky Jim by Kingsley Amis, so I'll go with that.
Q: What book is at the top of your Christmas wish-list?
A: Don De Lillo's story collection, The Angel Esmeralda.
- Herald online