Nearly 10,000 Kiwis entered a ballot to attend the 100th anniversary next year of the Anzac landings in Gallipoli. Here we meet some of the lucky ones who are going to the historic Turkish peninsula. Veterans' Affairs Minister Michael Woodhouse said 251 double passes were won by direct descendants of those who fought at Gallipoli, 149 were won by veterans and 550 by members of the general public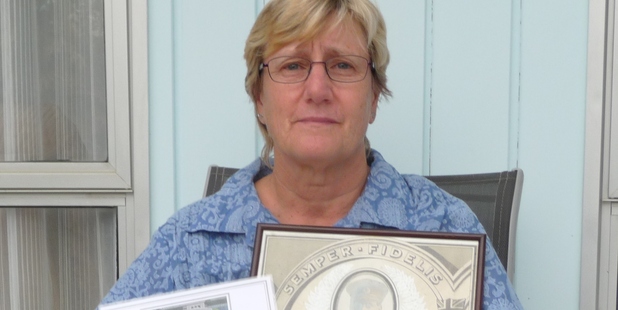 Lyn Griffiths, Maungaturoto
For me to attend this will be the ultimate end to a lifelong dream to be able to honour my grandfather who gave his life in service to his country.
My grandfather was 29 and married with two young children, a daughter aged 2 and a son, my father, aged 18 months. He volunteered to go and went with the first Auckland Battalion as a stretcher bearer and a member of the band.
On 15 August 1915, he was wounded in action, taken to the hospital ship Sicilia then to the 19th General Hospital at Alexandria where he died. He is buried in Chatby.
His son, my father, served in the first echelon based in Egypt [in World War II]. When he was sick he was admitted to the hospital at Alexandria which overlooked the cemetery. He could see the large memorial and decided to walk there when he was well enough ... at the end of a row he found his father's grave.
For me to be able to go to Gallipoli is something I have dreamed about all my life.
Francee Boult, 53, North Shore
My first memory of Anzac Day was selling poppies in the bar of my parents' hotel in Taupiri. I suppose I would have been 8 or 9 years old but the story of the poppies left a lasting impression on me — it was the only time my father ever spoke of the war.
My own father was a POW and my uncles and even my aunt served in the armed forces and one of my mum's brothers is buried in Belgium.
I have a relative on Dad's side buried at Anzac Cove, James Roy Cargo. We are keen to let him know his family still remember him — he was just a boy when he went off to fight for King and country.
Jamie Simpson, 34, Christchurch
My great-grandfather James Lohoar, known as Pappy, fought in Gallipoli. Having been named after him, it will be wonderful to honour his memory and acknowledge the service of other New Zealand soldiers.
Before the war he was a skilled horseman who worked on a station in North Canterbury. He served in the Canterbury Mounted Rifles.
To many, myself included, the battle signified the beginning of the Anzac spirit between New Zealand and Australia. The battle showed New Zealand could make an international contribution and helped forge our national identity.
Rachael Alp, 41, Pokeno
The Gallipoli 2015 experience will be an emotional journey for me.
I have spent many years researching my maternal side of our family. My grandmother died at a young age and my mother did not know a lot about her family, this encouraged me to embark on a mission to find out more of my family heritage.
This mission introduced me to Lieutenant Acland Withiel Thomas, my great-grandfather who fought at Gallipoli and in France.
This journey will be a personal achievement, one I dedicate to my mother.

Graham Lawson, 62, Waikato
My grandfather served four years and 222 days in the army during World War I. As part of his service he fought during the Gallipoli campaign.
He survived and returned to New Zealand after the war. He was an Irish immigrant who arrived in New Zealand in 1905 at age 12. In 1914 he signed up and went to war. He had Kia Ora tattooed on his left forearm.
I was 5 years old when he passed away. I will wear his medals with absolute pride.
Theresa Le Bas, 45, Hamilton
I am a sixth-generation New Zealander on both sides of my family. The two world wars had a huge impact on our family and its legacy lives on today.
My great-grandparents, and now my grandfather, kept photos of my great-great-uncle on prominent display at home. He was killed in World War I. The fact that my grandfather, Eric Tucker, and his older brother, Claude, both World War II veterans and still alive today, are named after him shows how dearly he was loved and missed.
So it is a huge honour for my sister and me to be able to attend the Gallipoli dawn service next year on behalf of all our family members, both living and those no longer with us, and all the other families who share our history.
Ruth Halkett, 28, Ponsonby
This will be my second journey to Gallipoli and my first time attending the dawn service on the peninsula.
Both my dad and grandfather served in the New Zealand military, and I expect I will find Gallipoli 2015 a very emotional experience.
Turkey is wonderful country to visit, and the Turkish people go out of their way to welcome visitors from the Commonwealth — I am looking forward to catching up with friends I made on my last visit.
Gallipoli will certainly cement it as a memorable birthday.
Erin Faulkner-Gerard, 34, Sydney but formerly Wanganui Like many other young New Zealanders on their European OE, I previously attended the Anzac Day service at Gallipoli, in 2007.
It was an amazingly emotional experience of which I have fantastic memories.
Being able to attend the centenary in 2015 with my father, Alan Faulkner, who served in the army 1973-1997, will be a privilege, an honour and a heart-breaking journey that my father and I will remember forever.
Syd Hunter, 85, Waiheke Island, Auckland, and his daughter, Kirsten, 44
Two of my uncles fought at Gallipoli. William Charles Bottle,, known as Willie, landed near Anzac Cove on the morning of April 25. The next day his North Otago Company advanced up Shrapnel Gully and suffered heavy casualties.
Official records say he was killed between 26 April and 30 April. He was 22 years old and was buried where he was killed.
His brother, Frank Edgar Bottle, landed at Gallipoli in May.
In July he received a gunshot wound in his hand and shrapnel in his neck.
On 19 October 1915, he was on a ship bound for Greece when it was struck by a torpedo. The ship sank with the loss of 167 souls, but Trooper Bottle and a mate, Jack Broom, clung to a plank for seven hours before being rescued by the Royal Navy. He lived until December 1986.
I am also keen to honour the memory of my father, Percy Hunter, who fought at the Somme. He was wounded aged 20 and never completely recovered.
I am overwhelmed to be chosen for the trip. My daughter Kirsten is to accompany me and she is enthusiastic and involved with the history.
Jenn McKenzie, 26, Auckland
Anzac Day is a very important day for me, and my family have a long history of attending dawn services in all kinds of weather up and down the country and in Australia too.
It is a place to pay our respects to those men and their families for the sacrifices they made so future generations could have a more peaceful world.
In true Anzac spirit, I will be taking my partner, Steve Sherwood, an Aussie, with me.