A quiet revolution will hit the streets of Auckland next month when the annual marathon comes to town. Charity running is starting to gain a strong foothold in the race which has the potential to grow into a multimillion-dollar industry. Steve Landells reports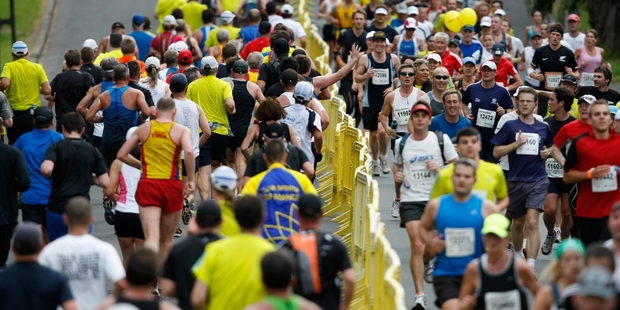 To many Kiwis the thought may seem hard to comprehend. In Britain a marathon runner when completing the gruelling challenge is less likely to be asked what time they have taken but more likely how much money they have raised for charity.
If this viewpoint seems anathema to most New Zealanders, you could be forgiven for harbouring such thoughts. Charity running is still virgin territory for many in this country. Yet attitudes are changing and fast.
This year, for the first time in its history, the Auckland Marathon will be activity pushing a broad and wide-reaching charity programme.
And, according to Tim Rogers, the founder of realbuzz, the company helping to organise and rally the charities for the 2013 Auckland Marathon, the hunger for running for good causes in Britain will quickly become the norm here in New Zealand.
"Running a marathon, especially the London Marathon, is all about raising money for charity," explains Rogers, an Englishman who relocated to live in Sydney earlier this year.
"For only a small number of runners it is about the time. That is what will happen with the Auckland Marathon."
There are two ways that charity fundraising works. Either you can sign up as a charity and runners have to pay a certain level of donation to enter. Or, you can set up a fundraising page and get sponsored by friends and work collegues.
Charity running in Britain and across Europe has had a long and fruitful association with the marathon. Since the inaugural London Marathon in 1981, the race - regarded as the world's No1 marathon - has raised an eye-popping combined total of more than $1 billion for good causes.
This year the 2013 event alone raised a record-breaking $103 million. Yet mysteriously, charity running - particularly at its major marathons - has barely registered in Australasia. The Auckland Marathon - until this year - had opted to affiliate itself to just one official charity, but made no concerted push to attract others. Last year the race raised a commendable $150,000 for the Heart Foundation. However, Rogers - whose company organises the online charity programme for the London Marathon - saw massive expansion opportunities in New Zealand and, more particularly, the Auckland Marathon.
"I've been monitoring the market for 10 years and I have been surprised that events here in New Zealand were not focused on charity running," says Rogers, a frequent visitor to Auckland, who lived here for a year a decade ago.
Familiar with the Auckland Marathon, which annually attracts more than 11,000 runners, he saw the rich potential of the race.
Convincing Auckland Marathon race director Richard Lindroos and managing director Stephen Brown of the merits of widening the fundraising brief of the race, Rogers and his company were brought on board to act as a conduit between the charities and the event.
For Brown, tapping into Rogers' expertise and expanding the charity remit was a no-brainer.
"Tim is really good at what he does and he has a vast knowledge of the global charity/marathon market," he says. "It's a value-add for the runners - many have a cause dear to their hearts and it is perfect way to achieve a personal goal and give back something at the same time."
Since launching a proactive campaign through the Auckland Marathon Facebook page and marketing the event through realbuzz.com, word has quickly spread about the charitable running options available for the 2013 race - this year held on November 3.
For the first time in the history of the Auckland Marathon runners have the option to compete via its Golden Charity entry system. This allows runners the chance to compete in the race for a cause and in return the charity will support runners by offering access to training guides and online marathon advice.
The early signs are promising that big money can be raised this year with already - a month out from the race - $500,000 guaranteed to hit the coffers of a range of charities. With the final four-week period leading up to the race is typically the most active, hopes are high a seven-figure total can be reached. One charity feeling the benefit is Oxfam - the global organisation committed to finding solutions to poverty and related injustice.
Their Auckland Marathon charity campaign is led by engagement and marketing director Gwen Pearson and she has been impressed by New Zealand's thirst for charity running ahead of next month's race.
"We had no problem filling our spaces we allocated to the charity," says Pearson, an experienced charity fundraiser who for more than 15 years worked with charities on filling entries for the London Marathon.
"This, to me, was very telling [as to the growing popularity of charity running]. This year charities are a lot more visible. In the past the Auckland Marathon was an event that happened to be in New Zealand, but now it is [viewed] as a charity event. Kiwis are outside people, which is why pushing the charity element into the Auckland Marathon can really make it fly."
Pearson says rather than chasing existing runners - who are likely to gain entry to marathons through their clubs - the charity targets first-time marathoners. She says Oxfam have run adverts in women's magazines, popular newspapers and gyms to pursue potential recruits and she admits appealing to such a "general audience" can cause a domino effect.
"If someone sees an ordinary person who can run a marathon, then other people think if they can do it, I can do it," she explains.
Of course, it goes without saying the charities prosper and thrive from the money raised.
However, merely having their name associated with a marathon can bring other benefits.
"In New Zealand, Oxfam is not that well known but where running events really work is we can get people on board [through charity running] that wouldn't necessarily support us," admits Pearson.
"What charity running does is raise awareness of the organisation and also helps raise the charity's profile at the same time."
The power of charity running should not be underestimated. Rogers believes that this year's Auckland Marathon can raise not just $1 million but close to $2 million and he is adamant this is only the tip of the iceberg.
"There is no doubt $5 million could be achieved next year, then $10 million and potentially $20 million per year within five years," he adds. "There is no doubt it will be the biggest single day fundraising event in the Southern Hemisphere within a very short time frame."