David Shearer's plan to ban house sales to overseas residents may be great politics, but will it do anything to get more New Zealanders into their own homes?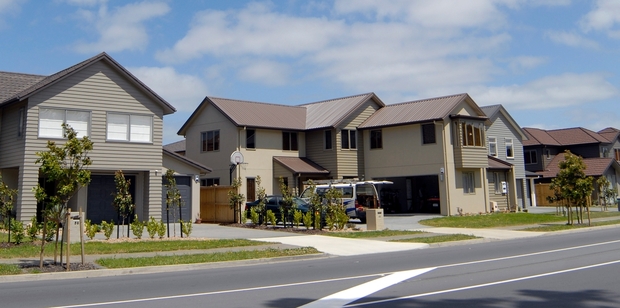 Sitting outside the Barfoot & Thompson auction room in the central city, Mindy Chan and her husband discussed their options on buying an investment property.
They had managed to "free some cash" after downsizing from a six-bedroom home to a three-bedroom one, and believed the auction was where they could find properties that offered the best returns for investment.
But Chan, originally from Hong Kong, said Labour's announcement that it would restrict non-residents to buy New Zealand prices had "demonised" them.
"The policy seems to imply that foreigners are responsible for Auckland's rising property prices, and people see us as foreigners just because we are Asians," said Chan, a permanent resident since 1997.
"When we bid for a house, we get the feeling that others are looking at us like we are trying to push up the house price."
Labour's announcement that it would ban non-resident foreigners from buying second-hand houses in New Zealand has been slammed as xenophobic and "anti-Asian" by some critics, but is predicted to win wide support.
However - despite the party releasing figures showing that 11,000 foreigners who owned properties here don't live in them and that 2600 houses were sold last year to people with no intention of living in New Zealand - finding a truly speculative foreign house-buyer proved difficult.
The Herald was told of several instances where cash-rich Chinese were buying up local residential real estate, including one who bought 27 properties and another who made offers for seven houses in a week.
Further investigations established that the person who allegedly made offers for seven houses turned out to be a translator, who had helped a migrant home-buyer with her sales and purchase agreement, who didn't have a clue about the other six offers.
The story of the other billionaire-buyer remained unconfirmed.
Nor could Chinese Labour MP Raymond Huo point the Herald to someone who fit the bill of the type of property speculator the party wanted to shut out, but he said the feedback he had received from the Asian community had been positive.
"Resident Asian bidders will be helped, not hindered by this policy, (which is) about prioritising New Zealanders over non-resident investors, not just Chinese investors," Huo said.
"I think investing in real estate has traditionally been a celebrated milestone for all New Zealanders, not just Asians. Again, this is not a race issue."
Huo said New Zealand properties were being marketed to offshore speculators with highlighted facts that "you do not have to have residency to buy houses here" and "no capital gains tax".
"Labour believes by placing restrictions on foreign citizens, we will help take some heat out of (the) housing market," he said.
Wednesday morning's Barfoot & Thompson auction opened with 38 people in attendance, with just over a quarter who looked to be Asian.
Those approached by the Herald said they were either residents or citizens.
One said he owned a restaurant in Remuera and had been living in Auckland for 22 years.
David Han, a chartered accountant from Newmarket, whose clients include many with investment properties, said to find a speculator who fit Labour's bill would be "like finding a needle in a haystack".
"These foreign owners of rental properties, most of them were one-time residents who have returned to their home countries," Han said.
"They are not property speculators as such, but permanent residents or citizens who decide to hang on to their property ownership after leaving the country permanently."
According to Immigration New Zealand figures, 40,692 migrants who have been granted permanent residence since 2005 are absent from the country, and this included 8,257 from China. Han said if there was one factor that pointed to migrants driving up property prices in Auckland, it was the Unitary Plan, that zoned areas for possible multilevel developments.
"Some Asian migrants have seen how land values have surged back in their home cities, and bidding for houses in areas zoned in the plan for high-rise living hoping for the same to happen here," he said.
James Law, principal of James Law Realty, who facilitated about 70 residential property sales to Asian buyers in the last year, said most Chinese were not keen to invest in New Zealand houses.
Taking New Zealand properties to a property expo in Beijing two years ago failed to generate much interest in New Zealand among the Chinese, he said.
"They don't even know where New Zealand is ... and feel the 4 per cent after-tax return is too low compared with some in Australia promising over 9 per cent."
The Chinese are investing increasingly in countries like Britain and the United States, where they rank alongside the Canadians as the fastest-growing group of buyers according to data from the US National Association of Realtors.
Law said the earthquakes in Christchurch and Wellington had also made it "that much tougher" to convince would-be investors to put their money into real estate here.

Read also:
• Housing price pressure unlikely to ease off
• Five steps to restoring an affordable housing market
• NZ one of few nations with no restrictions on overseas buyers