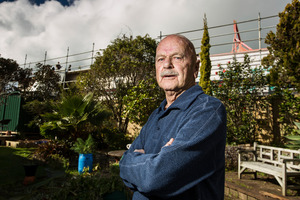 The relocation of houses for TV show The Block NZ has upset neighbours, who say they are being robbed of sunshine and privacy.
North Shore homeowner Alan Irvine said his once private and sunny courtyard was now in shade and was overlooked by the living area of one of the new homes.
"We used to look at trees and sky and now there is a house which is right on the knocker of the height to boundary - it is close to two storeys in height," Irvine said.
Irvine, who turns 90 this week, said floodlights on the stripped-back homes stream into the neighbouring properties.
"It is as bright as the sun."
Another neighbour had agreed to let crew park up to five cars in his front yard. Irvine said this had turned the shared driveway into a mud bath and they had been blocked in.
"I can't go down to get my mail without having to clean mud off my shoes and walking stick," he said.
The TV3 show features four pairs renovating the houses room-by-room, week-by-week.
Last season, winning brother and sister team Ben and Libby Crawford sold their house for $961,000, making a profit of $157,000 and taking an extra $80,000 in prize money.
Greg Heathcote from The Block said the company was working within height-to-boundary restrictions and had turned off lights when notified by neighbours.
"Filming is going well but, as you can imagine, filming in the middle of winter is fraught with difficulty."
He also said the houses were in worse shape than previously thought and required more work.