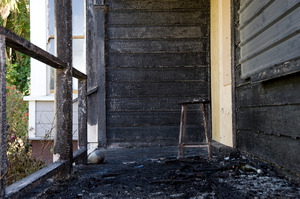 A dog that refused to stop barking when a fire broke out helped save a mother and her two children from the blaze in the bedroom of a Wanganui house.
The dog's incessant barking drew the children's mother outside to where she saw flames coming from a bedroom window on Monday.
Wanganui Fire Service principal officer Bernie Rush said the family was very lucky and the mother who rescued her children, aged 2 and 4, was a "very brave lady".
Mr Rush said the woman was still distraught at how close they were to a tragedy.
The 8.30pm fire in the house started in a bedroom where it is suspected the children lit the fire with matches.
The woman ran into the bedroom and rescued the children who were under a bed.
She and her children were taken by St John Ambulance to Wanganui Hospital where they were admitted overnight for smoke inhalation.
Mr Rush said the bed was burning, and because it was under a window, the heat from the fire broke the window and the fire vented out through the hole. Had the window not broken the room would have filled with smoke.
When two fire trucks arrived the house was well alight and anything not burnt would have been seriously damaged by smoke.
"We cannot reinforce enough the importance of keeping matches and lighters away from children, and to install smoke alarms in sleeping areas and one in the hallway."
Investigations into the fire were continuing yesterday, and the mother and her two children were staying with family in Wanganui.
For more articles from this region, go to Wanganui Chronicle