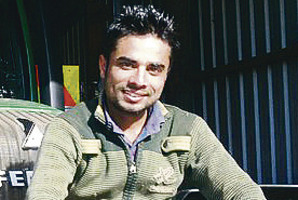 Slain Gisborne resident Amandeep Singh has begun his final journey home to India, where his mother is critically ill in hospital after refusing to eat since the apparent murder of her son.
Mr Singh's remains were taken from Gisborne Hospital to South Auckland Funeral Services in Otahuhu on Wednesday.
His cousin Atma Sidhu says a small funeral service is planned for Monday in the Manukau Memorial Gardens.
"Amandeep's wife Sabrina and her sister-in-law are going to attend, along with myself and a few other friends and family members,'' he said.
"We will then have Amandeep cremated, and I will take his ashes back to his family in India,'' Mr Sidhu said.
Amandeep's mother was critically ill in hospital, he said.
"She refused to talk and eat after news of her son's death. His father Sarbjeet is also very upset. Amandeep was their only son,'' Mr Sidhu said.
"It has been very hard on all the family. Police have not yet been able to give us a reason why he died and we are hoping for those answers, that news, very soon, definitely.''
Amandeep was born in the village of Agwanpur in the province of Bijnor in the north of India.
The body of the 22-year-old Indian national was found in scrub and small trees alongside the old road to the end of Kaiti Beach just over two weeks ago.
The coroner released the body to his family on Tuesday.