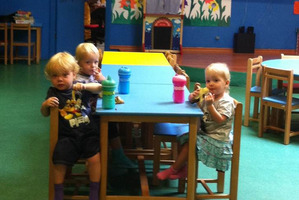 A staff member at the Doha daycare centre where New Zealand triplets died last year called her husband saying "no one will help" as she tried to evacuate children from the burning mall, a court has heard.
Louie Aban, the husband of Gympanzee daycare centre accountant Maribel Orosco, told a Qatari court overnight that his wife had called him three times during the fire before she died.
Ms Orosco, 29, was one of 19 victims of the Villaggio Mall fire in which 2-year-old New Zealand triplets Lillie, Jackson and Willsher Weekes died on May 28.
Doha News reports that a court hearing to decide culpability for the fatal fire was told by Mr Aban that in the first call from his wife he told her to wet clothes, put them over the mouths of the children and run down the stairs.
Ms Orosco said the smoke in the hallway at the exit was too thick.
The second call came as Mr Aban was driving to the mall.
"Drive fast, come fast," Ms Orosco told her husband and he heard crying in the background, Doha News reports.
When asked why she was telling him to go to the mall, Mr Aban told the court: "[Because] no one will help them."
Ms Orosco called one last time to say goodbye.
"She told me she had to 'let go'," Mr Aban said.
"I told her, 'don't'."
The Weekes triplets were among 13 children who died in the fire.
A forensic doctor told the hearing all 19 victims were found with ash on their clothes and in their noses and mouths, indicating they died of suffocation from smoke.
Mr Aban told the court he was stopped from going inside the mall when he arrived, despite telling officers that his wife and several children were trapped inside.
He said nearly two hours later, when authorities were unable to locate the daycare centre, firefighters suited him up so he could show the way but by that time the air was too hot and smoke too thick to make it inside.
Doha News reports that a report discussed in court by Qatar's fire chief found the blaze started after a faulty fluorescent lightbulb burst in a Nike store in the mall.
Pieces of the bulb, which was a type known to be unsafe, allegedly fell onto boxes of rubber-soled shoes and sporting equipment, igniting them and the shop before the fire spread to the mall, the court heard.
Another witness said the daycare centre's nursery had no windows or ventilation.
The hearing continues on January 30.
- APNZ