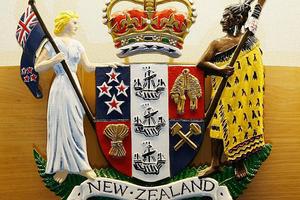 A 41-year-old Kaitaia man charged with 10 counts of indecently assaulting a girl under the age of 12 and one apiece of inducing and attempting to induce a girl under 12 to perform an indecent act upon him lost his name suppression in the Kaitaia District Court today.
Judge Greg Davis remanded Dean Shawn Gardner on bail without plea to appear in Kaitaia on March 14. Bail conditions were that he comply with a 24-hour curfew at a specified address outside Kaitaia unless he suffers a personal medical emergency, needs medical treatment or to meet with counsel and is accompanied by his wife, a parent or parent-in-law; that he not enter Kaitaia or Awanui; that he not be in the company of any person under the age of 17 other than his children, who must be in the company of his mother or wife; that he have no access to the internet or any internet-capable device; that he not contact the complainant, members of her family or witnesses as specified by the police; that he surrender his passport and not obtain any other travel documents.
Judge Davis warned Gardner that any breaches of those conditions should see him returned to custody immediately.
Much of the two-hour hearing was devoted to considering (and approving) a request from Maori Television for the right to film in the court, and the continuation of name suppression, Judge Davis ruling that it was in the public interest to lift suppression. Defence counsel Catherine Cull opposed the lifting of name suppression but said she would not appeal the decision to do so.
The charges against Gardner relate to one complainant, who was aged five to seven years at the time of the alleged offending (2000-2002).
Ms Cull noted that her client had no criminal history, and had not come to attention for more than a decade since the time of the current allegations. She believed the charges would come down to a question of credibility, adding that the accused was entitled to the benefit of the doubt until then.
She urged the court not to make comparisons between her client and "other matters that are going on in this area," an apparent reference to charges of sexual offending against boys by former school teacher James Parker, and charges, yet to be pleaded to, against Daniel Taylor, both of whom are still before the Kaitaia District Court.