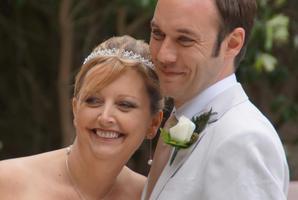 An English mum-of-five with terminal cancer has spent $40,000 on a dream wedding in New Zealand.
Sharon Perks, 42, was diagnosed with neuroendocrine tumours (NETs), the same cancer that killed Apple's Steve Jobs, earlier this year and was told she may only have months to live.
After receiving the devastating news, brave Sharon and her partner Mark Heazle, 32, decided to tie the knot in style Down Under at the Centennial Gardens in Napier.
"It was the most magical day - one of the happiest moments of my life," Sharon told the Daily Mail.
"We've created a memory my family will cherish forever."
Her three eldest children from another marriage - Ellie, 16, Keira, 15, and Georgia, 13 - came along on the trip of a lifetime, along with the couple's two kids, Albie, 4, and three-year old Ellie.
After the emotional ceremony by a waterfall in picturesque Centennial Gardens, in front of close friends and family, the Heazles then spent Christmas and New Year in Los Angeles and Disney World in Florida.
And Ms Perks, from Norwich in England, said the NZ$40,000 luxury trip, which was funded by savings, family donations, and income from selling belongings online, was worth every penny.
"This trip is a massive deal for us and very expensive. We even used the kids' savings we'd set aside for university or a first car. But I'm convinced it's worth it," she told the British newspaper.
"What I hate most about this cancer is what it could do to my family.
"My youngest don't even know I have cancer yet - it would only upset them.
"So for me this trip is not only a lasting memory for them to hold on to, but the wedding was also intended to reaffirm our commitment as a family."
- APNZ