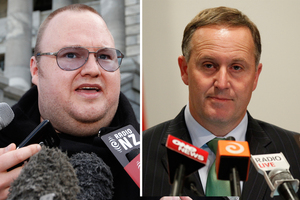 Labour claims a recording exists of Prime Minister John Key referring to Kim Dotcom during a visit to the Government Communications Security Bureau in February.
Labour Leader David Shearer said Mr Key addressed staff at the bureau during a visit on February 29th following a briefing about the GCSB's surveillance of the Megaupload millionaire.
Mr Key has already had to concede he was briefed on GCSB's involvement in the Dotcom case - a shift from his earlier claim he first learned of the links on September 17.
Mr Shearer called on Mr Key and the GCSB to confirm whether a recording of Mr Key's comments to staff in February existed and to have any unclassified material from the visit released to "clear this up".
Mr Key told TV3 he had no memory about whether he mentioned Dotcom when speaking to GCSB staff.
"I don't recall it, no. Who knows, but I don't recall it," he said.
Mr Key said there was no written record of the conversation with staff, but notes prepared by the person who gave the briefing had a statement mentioning a short reference to Dotcom.
"I can only assume he made that reference in the meeting. If he did, I have no recollection of that," Mr Key said on Campbell Live.
Mr Shearer said several sources staff videoed Mr Key's address to GCSB staff in which he mentioned Dotcom.
He said he didn't know if the video still existed.
"It's time for the full facts to be put on the table. This goes to the heart of John Key's credibility and whether he's telling the truth to New Zealanders," said Mr Shearer.
Mr Shearer today made a request to the GCSB under the Official Information Act for any audio-visual material relating to the visit.
If it was unclassified information it should be publicly released, he said. He also repeated a call for an independent inquiry.
- APNZ