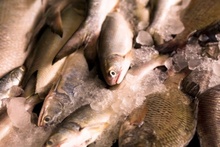 A Tauranga fish dealer has been fined $22,500 for illegally obtaining a large quantity of fish.
Western Bay Seafoods Limited was found guilty of a charge of possessing fish not recorded or reported when taken or landed as required under the Fisheries Act after a defended hearing in Tauranga District Court.
The charge stems from a covert surveillance operation by fisheries officers who began watching the unloading of a trawler berthed at Moana Fisheries wharf on the evening of September 19 last year.
Judge Peter Rollo heard evidence from one fisheries officer that he saw 270 bins of fish being unloaded into a two chiller trucks, and some of the unrecorded catch was delivered to Western Bay Seafoods' premises in Dive Cr, which trades as Fresh Fish Market.
How much fish cannot be quantified.
The company denied possessing illegal fish and company's director Robert Palmer also denied the company or its staff would be involved in obtaining fish unlawfully.
But Judge Rollo said he was satisfied that the informant's circumstantial evidence against the company was sufficient to constitute proof of guilt.
The charge attracts a maximum fine of $250,000. The company was sentenced on Friday following a defended hearing on Wednesday.
Morgan Dunn, lawyer for the Ministry of Primary Industries, sought a fine of $30,000 which he argued was within range, given the criminality and also taking into account the company's two similar prior convictions in March 2003 which he said had attracted a $20,000 fine.
But Western Bay Seafoods' lawyer, Paul Mabey, QC, argued that $30,000 was too high, given the 2003 convictions related to a specified amount of fish, and involved two charges, and there was no evidence of a quantifiable amount of fish on this occasion.
Judge Rollo said he was satisfied after hearing evidence from an experienced fisheries officer who was involved in the covert operation that the amount of fish would have been substantial, and in his view a fine of $22,500 was a fair representation of the degree of offending.
Judge Rollo said he was also satisfied that the transfer of the illegal fish was clearly organised by the company, and was a deliberate attempt to cheat the system and obtain a financial advantage.
"I'm satisfied the fine I am imposing is a fair representation of the criminality involved."
When contacted last night by the Bay of Plenty Times, Mr Palmer declined to comment.
On July 23, Tauranga businessman Lay Queen Lim, 32, was sentenced to four months' community detention and 160 hours' community work after admitting he illegally bought 600kg of fish.
Lim, 32, was busted during the same covert surveillance operation, that also lead to the seizure of a Tauranga-based trawler.
Lim's offending related to his illegally obtaining fish during September and October when he owned a fish and chip shop in Waihi Rd. Lim has sold the shop and it is under new management.
By Sandra Conchie