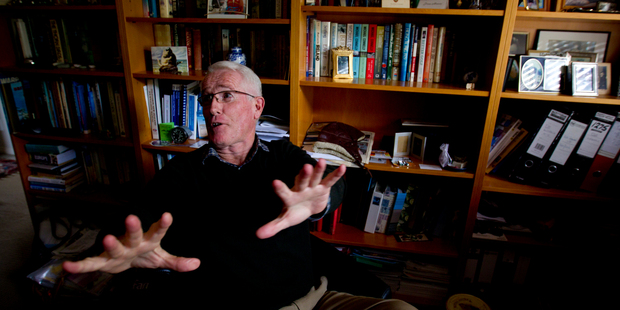 Rod Vaughan, the veteran television investigative journalist, has written a book about his 40 years in the industry. It is called Bloodied But Not Beaten, and, go on, see if you can guess what's on the cover.
It is of course a picture of Vaughan, in a helicopter, with a busted nose and blood streaming down his face. He is also, of course, still talking to the camera. He had a good story, and he knew it.
He had tracked Bob Jones down to his fishing spot along the Tongariro River and confronted him about announcing his decision to disband his New Zealand First Party and then buggering off (without telling the party members what the hell was going on, according to Vaughan. He sent the book to Jones who gave him a ticking off, over the phone, for getting his facts wrong, and then for not signing the book).
For his troubles he got called some very rude names, and that punch in the nose. The photo caption accompanying the shot of the bloodied reporter reads: "Bob's blow stopped me in my tracks, but not for long. The show had to go on despite the broken nose."
The first chapter is the story of that chase and that punch. It is titled: A Bit of Biffo. What a very strange thing to be best known for. Even stranger is that the chapter ends with a picture of Vaughan and Jones "hamming it up" for a newspaper photo in 2003, at a launch for one of Jones' books. They had "buried the hatchet" as Vaughan writes, many years earlier when Jones made a cameo appearance in a video for Vaughan's 50th, in which he opened the door to a reporter who asked if he'd like to wish his former adversary a happy birthday.
To which the pugilist responded that he regretted not punching him harder. The reporter then put on a boxing glove and delivered Vaughan's message: a punch in the nose, which Jones valiantly pretended knocked him to the ground from which he then reappeared, "tomato sauce pouring from his nose".
What jolly, blokey, japes. Still, it is a strange thing to be best known for, and you'd think, a little galling, actually. He said, "I hate confrontation." And, "You could say he sort of punch-started my career!" People still come up to him and they don't say, "Oh, you're Rod Vaughan," they say, "Oh, you're the guy Bob Jones punched."
How very annoying, because you could fairly safely assume that Bob Jones doesn't mind the idea that he made someone's career by punching them in the nose.
"Oh, I'm sure!" He didn't get any money out of Jones. "No! He tried to get money out of me. And he ruined my blazer. It had a lovely blazer. It was a damn nice blazer! And I lost my sunglasses!"
He said it "wore a bit thin" being known as the man who, etc. Ha, but not so thin it isn't his cover and opening chapter! "That is true!"
He's been around long enough to know what sells a story, and, hell, why shouldn't he sell a few books on the back of a punch of a nose?
There was some talk that Jones was going to put on the book launch which might have made up for that damn nice blazer. In the end he didn't make it. I didn't either, not having been invited, which I was mildly miffed about, and which I was going to give the author a bit of a hard time about (he said the publicist was supposed to be looking after all of that). I was miffed because he approached me to see whether I might be interested in talking to him and then I didn't even get an invitation. Which I thought, ahem, a bit on the nose.
So I thought he'd be one of those up-himself telly journos who go off to war zones and come home and bore for their country and who regard simple newspaper hacks as lesser beings. Anyway, he said the launch was a very modest affair and that he was at home by 9.30pm and in bed by 10.30pm.
And he couldn't be further from being one of those telly journos with huge egos. He is whatever the opposite of that sort is. I liked him very much for including in his book an account of cowering in an alley way in Pakistan, hiding out from a threatening mob, while the gung ho cameraman went off to get footage.
You wouldn't have seen him reporting from the complete safety of a roof of a hotel in a war zone wearing a flak jacket and talking up the danger the way more-flamboyant colleagues do. In the Pakistan story he retires to the hotel for "a nice cup of tea".
But, really, home by 9.30pm after your own book launch? What had happened to journalists? Nobody misbehaved. Nobody even got drunk. He says he did once get drunk occasionally but he's now 65 and the drink takes its toll as you get older.
I can't imagine that he was ever, even when drunk, remotely blokey, or much given to jolly japes, either. He's a funny sort of investigative telly journalist, really. You can imagine him in his lovely blazers. He's a tidy chap, with a tidy mind. He says he's methodical, possibly too much so. "Some might say I'm rather anal. Some might say a plodder. I wouldn't." He isn't a cynic, amazingly, for a reporter. He says he tends to see the world through rose-coloured glasses.
He is a restrained character; a stiff-upper-lippish chap. He says his English father was impetuous and given to speaking his mind, to mixed results so he made up his mind not to be an explosive sort. He was, then, early on, a quiet observer of people. He is perhaps not quite such an accomplished observer of himself - through lack of interest, probably.
I asked how revealing he thought his book was about him and he said: "Have I bared it all? I think I've bared most of myself." Does he really? He might think that, if he wasn't at all interested in navel-gazing, and of course he isn't. Needless to say there isn't any of that indulgent sort of carry on in his book.
I asked it another way: What does he think his book tells us about him? He was appalled. "That's a very awkward question." It is his book. "I don't know. I sometimes wonder what people think of me." And what does he think people think of him? "Well, they probably think I'm just a regular sort of person, a person who is pretty conventional. Who does his job to the best of his ability."
He said he wrote it for himself (and his family), and that he's only partly joking when he calls it a "vanity" project. Well, good for him and what an admirably honest answer.
The bits about him (as opposed to the bits that revisit his favourite old yarns) are mostly about getting the boot. He got the boot from TVNZ, under Bill Ralston and Ian Fraser's regime, in 2003, after 35 years at the state broadcaster. His wife heard, on the radio, that he was going to be made redundant, while he was on a job in Canada. He sued and won a confidential settlement for hurt and humiliation.
That chapter is titled: Hero To Zero. He went to TV3 where he was told to take off his "bloody tie and loosen up". He was with 60 Minutes for eight years, and managed, presumably, to keep the bloody tie off and loosen up, at least as much as he's able.
On the day he finished writing his book he was told he was "surplus to requirements". He didn't sue. He says he expected it and was by then "battle-hardened". But he is still disappointed because while he says he doesn't miss being on the telly, that it was never a "drug" for him the way it is for some, he does miss doing the stories.
He is not terribly good at sitting around doing very little. He now does three days a week at NBR - he says he can't afford to live on the pension: "I'm not rich!" - where he seems to be specialising in sympathetically told "fall from grace" stories. I asked if he'd gone soft and he bristled a bit and said he certainly hadn't. I think he is just interested in the psychology of those stories although it would be beyond navel-gazing to expect him to examine such a theory.
He seems to have always been something of an outsider. He says he made sure there was a life outside of journalism, and in any case, he has a natural reserve. There were no famous names at his book launch. He says he never moved "in those circles". He is not bitter or angry about how his career ended, although obviously he'd have liked a farewell party at TVNZ. But he is an astute observer of the star system, which began when Paul Holmes arrived, he says.
Holmes was earning about $700,000 a year and he was earning less than $100,000. But what really got to him wasn't the money: It was the creation of A teams and B teams and the A teams got the airport lounge membership and the business class seats. He says he found that offensive because "it's not the New Zealand way". He mourns, too, in his postscript, the lack of money and resources for investigative journalism.
The last line of his book is: "But does anyone in the television industry really care?"
That's a plaintive ending. Is it a sad book? "Poignant, perhaps. I thought about how to end it and I thought that was the way to end it. Some careers go out on a huge high, covered in glory and gold medals, others with a whimper. Others go out with a slightly sour taste."
It is to his credit that he has managed to tell his story, which could have been slightly sour, without a whimper. If pushed - and you do have to push - he'd say what best characterises him is his "doggedness".
There is something, still, of the young keen terrier about him. He says, about ego, that of course he has one and that his younger self may have been guilty of vanity, but having observed how unattractive large egos are, he's worked pretty hard at keeping his in check.
There's another word that might best describe him and that is decent. It's an out of date virtue and perhaps regarded as a bit dull. He says he's boring and conservative from the inside out - he means from his clothes to his values. But if those things are synonyms for decent, I'm all for them, especially in telly journalists.