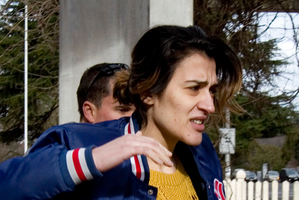 A woman who duped unsuspecting internet traders into buying non-existing Apple products has made up a quarter of the amount she owes in reparations.
Elmira Rafiee, 25, pretended to sell iPhones and iPads to 45 Trade Me and Sella customers. Complaints were laid against the Aucklander after customers found they were not receiving goods they paid for.
Ms Rafiee admitted to 56 charges in relation to the crimes earlier this year and was told to repay more than $48,000 in reparations.
The 25-year-old was due for sentencing at Auckland District Court this morning but did not appear because she has not yet collected the full amount.
"She is making progress and has raised a quarter of the amount," Ms Rafiee's lawyer Mark Ryan said to the court.
Mr Ryan said the 25-year-old was facing difficulties in reaching the total amount due to her bail conditions.
The conditions, which she has already breached once, impose a curfew of 7pm to 7am. Between these hours Ms Rafiee must be at her father's home in Mt Roskill. She is also forbidden to access the internet and communicate with any of the complainants.
Judge David Harvey adjourned Ms Rafiee's sentencing to September.
- APNZ