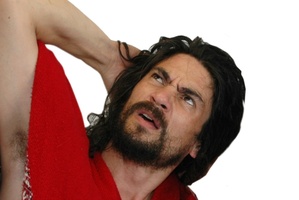 A teenage boy recovering in hospital after a six-storey fall will benefit from a fundraising event by one of his favourite comedians.
Jarrod Monkley, 16, was seriously injured on Monday after the fall from a new Auckland University of Technology building he had just started working on.
He is in a serious but stable condition in an induced coma with broken ankles, punctured lungs, a neck injury and possible brain damage.
One of Jarrod's friends sent a message to comedian Justin "Gish" Hansen to tell him Jarrod was a fan and the comedian decided to donate all proceeds from his upcoming show to the teenager and his family.
A friend of the Monkley family, Nigel Karl, has also donated a hot lap ride in his V8 race car to be auctioned off at the Gish fundraiser.
The show is on August 15 at The Winchester, St Benedicts St, Newton.