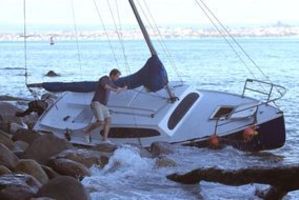 An unmanned yacht was found washed up on rocks at the base of Mauao, Mount Maunganui at first light this morning.
The 20-foot yacht, named Nivana, was found around 6.30am pinned to the base of the mountain.
The hull had been pierced and the boat was full of water, leaning about 30 degrees starboard.
The owners were alerted to the wreck and arrived to survey the damage at 8.30am, about 100m west of North-west Rock, opposite Matakana Island.
Investigations into the circumstances of the wreck are underway, but the yacht is believed to have broken its mooring in Pilot Bay overnight.
Last night's super moon means the boat is located on the rocks at a very high tide mark.
Western Bay harbour master Jennifer Roberts said the Nivana might be re-floated at the next high tide, if it was possible to re-float it at all.
"We will be working with Nivana's owner to minimise the impact on the environment and deal with the salvage," she said.
The yacht's owners were unavailable for comment.

For more articles from this region, go to Bay of Plenty Times