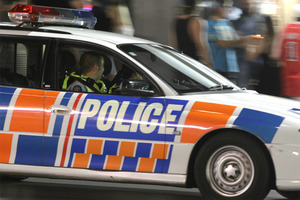 The family of a 76-year-old man believed to be involved in a hit-and-run incident that left a young Auckland man seriously injured have reported him to the police.
A 25-year-old man was hit by a car on the corner of Roberts and Glenfield Rds in Auckland at 6pm on Saturday. Last night he was in hospital in a serious but stable condition surrounded by his family.
Police said at the time of the incident they were looking for the driver of a navy blue Ford Falcon SR6 saloon that was seen leaving with a smashed windscreen.
Yesterday, Sergeant Jesse Mowat said police were speaking to a North Shore man who is believed to have been driving the car. He said the man's family contacted police soon after the Saturday night accident.
Although the elderly man was particularly upset, he was co-operating fully.
Police were investigating why he did not stop his vehicle and he was likely to be charged, Mr Mowat said.
"He did not come forward - he was helped by his family. He's upset about what's happened.
"We're still investigating why he did not stay at the scene. But given his age ... he may have panicked."
The victim, whose home is understood to be close to where the accident happened, was crossing Glenfield Rd when he was hit.
He suffered a fractured arm, bleeding on the brain and a fractured skull.
He was rushed to Auckland City Hospital in a critical condition but was last night in a stable condition and able to speak.
Hospital spokesman Matthew Rogers said the man was surrounded by family members.
Mr Mowat said police would speak to the victim in the next few days.
"He initially had no memory of what happened. We'll give him a couple of days and then speak to him."
He praised the quick actions of several members of the public, who covered the young man with blankets and tried to stem the bleeding from his head with towels.
One of those people, second-year nurse Amy Rutland, came across the scene of the accident while on her way to work at Waitakere Hospital.
Her grandmother, who did not want to be named, said last night that Ms Rutland did not see the accident happen but organised help before emergency services arrived.
"Amy ran up and just said to the neighbours, 'right, I need towels and blankets'. Somebody got her some gloves and they all did their best to make sure he was looked after before the ambulance came."
Mr Mowat praised the public's efforts to help the man, saying: "I wouldn't go as far as to say that they saved his life; but putting a blanket on him to avoid him going into shock and applying pressure to his wounds - I would say they certainly made him much more comfortable."
Mr Mowat would not comment on whether or not that part of the road - which has a sharp curve - needed to be made safer, only saying that it was something the council needed to look at.
* Anyone who saw the accident is asked to contact the North Shore Policing Centre on (09) 488-6200.