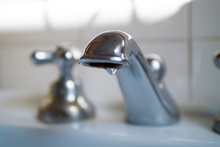 Taps unexpectedly ran dry in Hokitika for two hours yesterday after a contractor mix-up.
Westland District Council assets and operations manager Vivek Goel said Westroads was undertaking planned work on the Kaniere water supply at the time.
"However, someone accidentally shut off the main supply to Hokitika, which caused the town to run dry."
The mistake left Hokitika residents and businesses without water from about 11am and the council was inundated with phone calls.
Glow Hairdressing owner Liz Scott said the outage was an "unexpected inconvenience" but staff handled it well.
"We had two people with colour in (their hair) and we had to get that out. We boiled the jug and filled bottles with the dribble from the tap."
Westland Milk Products was unaffected by the outage as it has its own separate pipeline.
Mr Goel said that as soon as the mistake was realised, the water was turned back on and water was flowing through the taps again by 1pm. He said a full investigation into the accident would be launched.
By Rebekah Lyell of the Hokitika Guardian