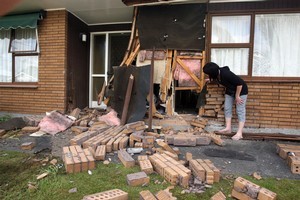 An elderly Masterton woman had a rude awakening this morning after a drunk driver smashed his car into her bedroom while she slept.
Rollea Follick, 81, was still shaking today after she was woken just after midnight by an "almighty bang'', which left the front of a car jammed against the bedroom wardrobe of her Pownall St home.
Despite the car ending up just inches from where she slept, she was uninjured.
Masterton police's Senior Sergeant Carolyn Watson said a 27-year-old Masterton man had been found slumped behind the car's steering wheel unconscious.
He was taken to Wairarapa Hospital where he was treated for minor head injuries, before being taken to Masterton police station where he was breath-tested.
She said he recorded a reading of 747 micrograms of alcohol per litre of breath - almost twice the legal limit.
The man was bailed and is due to appear at Masterton District Court on February 7.
For more articles from this region, go to Wairarapa Times-Age