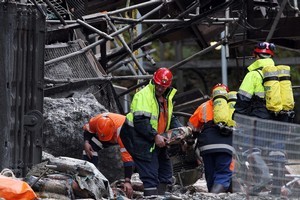 Australian volunteers flown in immediately after the Pike River Mine disaster threatened to go home because they had been left in the dark over monitoring.
The Queensland Mines Rescue team decided to stay on the West Coast because they believed the police and Pike River management had no control or management of the mine sealing and recovery aspects, an Australian miners union check inspector Timothy Whyte told the Royal Commission of Inquiry today.
Even after they raised concerns about poor communication, against their express directions polyurethane was used to dock their GAG machine, which was brought in to try to make the mine atmosphere inert - causing a fierce fire at the portal, he said.
The use of polyurethane in sealing the GAG had been expressly ruled out. But it was used by contractors under Pike River management, and caught fire. It took more than one hour to extinguish, and set back by 12 hours efforts to seal the mine.
If a fire tender had not been close by, the damage could have been significantly greater.
Mr Whyte, one of three Australians to appear before the commission yesterday, was also deeply troubled to find a large auxiliary fan had been placed at the portal.
It was completely incomprehensible that someone would force fresh air into a mine that had just exploded, he said.
It is akin to blowing on a smouldering fire to cause re-ignition of combustion.
In fact, Pike River intended to use it only if it could be proved the mine was not burning. But positioned 2km from the outlet, it would be unlikely to work, Mr Whyte said.
The only indicator of mine ventilation was a piece of plastic tape attached to a rib bolt at the portal of the mine.
The Australians learned the mine had "breathed out" - expelled air - twice the day before and he found it inexplicable that Queensland Mines Rescue had not been told that by Pike River management as they prepared to install the GAG machine.
Police were told to ensure mine management start sharing information and providing assistance or they would return to Australia.
They should not have to chase mine atmospheric readings all the time, Mr Brady said.
There were problems from the moment they arrived one week after the November 19 explosion. There was no one to induct them, so they had to familiarise themselves with the mine site, including establishing where the 'no go' zones were, finding tape but no barriers around the portal.
Subsequently a police officer was stationed there.
There were no self-rescue apparatus for people around the portal, in case another explosion spewed out noxious gases.
Earlier yesterday, the commission heard there was probably no window of opportunity immediately after the explosion to rescue the men.
Many people have cited the Strongman Mine disaster of 1967 as an example of a window of opportunity, a safe period after the first blast when a dangerous mix of fuel and oxygen had largely been used up.
Chemist and gas expert Darren Brady, from Australian company Simtars, said: "The atmosphere could not be defined as safe for re-entry, which means that the opportunity to re-enter did not exist."
New South Wales Mines Rescue and Coal Services Pty Ltd manager Seamus Devlin said he believed the 29 men underground would have walked out if they had survived the initial explosion.
Given the lack of information, the decision not to mount an immediate search was correct, he said.
He likened the main tunnel to a gun barrel.
- APNZ