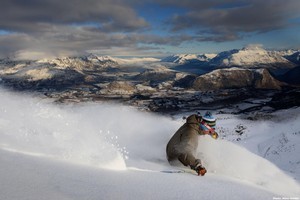 A Christchurch woman who took a wrong turn on the Coronet Peak skifield late on Saturday had to hike for almost five hours in the dark to reach a farmhouse and safety.
She walked almost 10km over what police described as very challenging terrain.
The 55-year-old woman was emotionally distressed and exhausted but did not require medical attention, Constable Blair Duffy, of Queenstown, told the Otago Daily Times.
"It was dark and that [cold] front was coming through. She was very, very lucky that she was strong enough to keep going."
Her journey included negotiating fences and bluffs and being chased by a herd of Hereford bulls before ending up at the farmhouse at 8.30pm.
The woman had been skiing with a friend and became separated about 3.10pm.
- NZPA