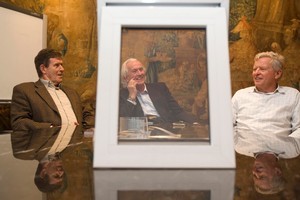 1980s radio legend Kevin Black - aka Blackie - said his latest business venture would never have got off the ground without the hot-bed of innovation and ingenuity found in the humble Kiwi shed.
After seven years of tinkering away over a few beers, Black and two of his mates - Gavin Watson and Geoff Thorpe - reckon they have come up with a world-beating product. "It had a lot to do with a shed that I had. Three men and a shed, beers, patriotic fervour, discovery ... sheds in New Zealand have always been an inspiring environment," Black said.
The trio have developed a composite material they are pushing as a strong, pliable and affordable alternative to carbon fibre, glass or steel.
The unique quality about the product, dubbed Nucleer, is its capacity to be moulded or bent into nearly any shape while still maintaining the strength of less versatile materials.
"When we started talking about whether it could be formed or bent, most of the experts said we were dreaming and off the planet. But you can make any [shape] out of this - it's as wide as your imagination," Watson said.
"It's an amazing alternative to glass because you don't need double glazing. It keeps the heat in, it's soundproof, it's also actually 30 per cent optically clearer than glass," he said.
Nucleer is also very strong - Watson said a 4mm sheet on its edge can take up to 62 tonnes without cracking.
The trio said the potential for the material is endless and could be used in anything from boats, cars and aircraft to buildings, fridges or bus shelters.
They have secured a patent for the product in a number of countries and are now looking to sell the manufacturing and marketing rights.
Although extremely proud of what they have made, Black said there was no grand plan when the group set off.
"It was a lot of trials, a lot of failure, but we didn't lose our enthusiasm and as long as the beer fridge was running we could handle and come to grips with failure," he said.
"There were a lot of 'hoorays' and also lots of 'buggers'," Watson said.
The three are still working to see if they can improve Nucleer - but are now without the trusty shed where the product was born.
"Unfortunately Kevin sold his house. It was very inconvenient," Thorpe joked. "Much to his wife's dismay and horror we've now made her garage into a shed."