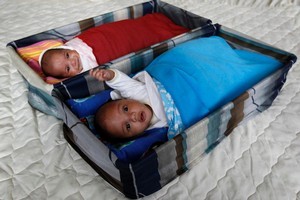 A Kiwi invention being used to protect sleeping babies in post-quake Christchurch could help slash South Auckland's rate of sudden infant deaths.
Pepi Pods allow babies to lie safely next to parents when sleeping in an adult bed, on a couch or away from home.
More than 500 Pepi Pods have been distributed in Christchurch, and a newly formed group hopes to use them in South Auckland to prevent accidents and deaths.
On average, 20 South Auckland babies die each year of sudden unexpected death of an infant (SUDI).
Dr Christine McIntosh, a Papatoetoe GP, SUDI researcher and member of the SUDI committee, said a study by the group would target Maori or Pacific Island mothers who smoked during pregnancy.
Researchers would check in on them months later to test their knowledge of safe sleeping and to see if they had been using the pods.
The committee is seeking funding for the study - still to be approved by Cure Kids - and hopes to start the trial in August.
"We are trying to do this as quickly as we can, but it's a matter of funding," Ms McIntosh said.
The nationwide Back to Sleep campaign had significantly reduced the rate of deaths, but New Zealand still had a SUDI rate higher than that of most countries.
"The committee feels we need to stress safe sleep environments," she said.
"The national strategy is 'face up, face clear, smokefree, every sleep', but we also need to talk more specifically about the sleep environment and whether there's a separate place for the baby that is flat."
"We are still losing about 20 babies a year in South Auckland, which is hideous, and I don't think people are understanding that we are losing one classroom of children each year.
"We know the majority of babies who died are sharing their bed with another person, and the whole idea of this is to provide a separate safe sleep place for a baby, as economically as we can."
A pod could be assembled with a $20 box from The Warehouse, an $8 small mattress and linen from around the house, she said.