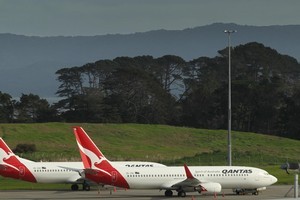 Qantas has cancelled all flights in and out of New Zealand today, dashing the hopes of thousands of stranded passengers wanting to get home.
The Australian national carrier said there would no flights today to and from New Zealand and Tasmania because of the ash cloud from Chile covering parts of Australia.
Qantas said that because of the volcanic plume it would not risk flying out of New Zealand or Tasmania today.
Qantas spokesman Tom Woodward said the worst consequence was ash getting into an engine and the engine failing.
"We have a safety-first approach. We don't apologise for that, but we obviously regret the inconvenience and understand people's frustration."
Air New Zealand is the only airline continuing to continue flying.
Qantas, Jetstar, Pacific Blue, Virgin and Emirates have delayed or cancelled flights in and out of New Zealand, affecting nearly 20,000 passengers.
Air New Zealand spokeswoman Marie Hosking said Air New Zealand flights were flying below the ash cloud which had a ceiling of 8229 metres (27,000ft).
The Civil Aviation Authority yesterday raised the safe flying level from 6100 metres (20,000ft) to 27,000 feet (8200 metres).
Ms Hosking said the airline had no plans to cancel flights today.
"We are continuing operations at a lower cruising level."
Asked why other airlines could not do that and continue to fly, she replied: "They could. But you would have to ask them. That is their decision."
Jetstar said today the safety of passengers and crew was its number one priority.
Ms Hosking said Air New Zealand loadings were very high but she could not say if that was due to other airlines being grounded.
In Australia more than 60,000 passengers have been stranded by the ash cloud which began when the Chilean volcano began erupting more than a week ago.
Qantas said it could take 24 to 48 hours to clear just the Melbourne backlog.
Yesterday's disruptions kept a further 10,000 passengers stranded in New Zealand.
They included the Australian women's netball team and the West Tigers rugby league team.
- NZPA