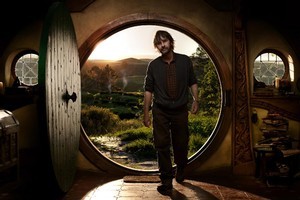 Two workers have been burned in an explosion inside the studios where The Hobbit is being filmed.
Emergency services were called to Stone Street Studios, which is co-owned by director and producer Peter Jackson, after the explosion around 11:20am.
Wellington Free Ambulance spokesman Ross Cameron said initial reports showed gases inside a sculpture being constructed had ignited.
A 25-year-old man suffered superficial facial burns and another patient had burns to their hands, he said.
Ambulance staff treated both at the scene and transported them to hospital - though their injuries were thought to be minor.
A Fire Service spokesman said there was no fire at the studios when firefighters arrived.
The Hobbit unit publicist Ceris Price said calling the incident an explosion was a "slight overstatement".
The incident happened in one of the workshops when "a couple of the guys" were drilling a statue, Ms Price said.
The pair were left with "mild burns but nothing serious" and were taken to hospital as a precaution, she said.
"One of them had some burnt nostril hairs and, apparently if that's the case, there is always the risk of inhalation so they get checked out."
She said no fire was caused by the incident.
Stone Street Studios was used in the production of Lord of the Rings and King Kong and is currently being used as a set for The Hobbit.
- Herald Online staff, NZPA