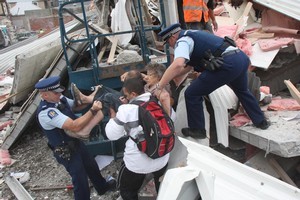 Hope is fading for hundreds of people missing for a second night after the Christchurch earthquake, as authorities fear more teetering buildings could collapse overnight.
Although 120 survivors were pulled from the wreckage during the first night, more than 300 people are still unaccounted for. The number of confirmed fatalities stood at 75 last night.
One victim was a nine-month-old boy killed when a television fell on him during the magnitude 6.3 shake.
The death toll is expected to rise further - it does not include more than 100 people inside the smouldering remains of the Canterbury Television building. Last night, the CTV building collapse was described as "100 per cent unsurvivable".
All bodies retrieved so far have been taken to a temporary morgue, where police experts are using DNA, dental records and fingerprints to formally identify victims.
But the massive search and rescue effort unearthed some amazing tales of survival, including 12 workers trapped inside the pancaked Pyne Gould Corporation (PGC) building.
Ann Bodkin emerged with barely a scratch after 25 hours lying on her side in a cramped, dark space, rescuers braving aftershocks to carry her out on a ladder.
"You always hope," said her emotional husband Graham Richardson. "Getting her out is just stupendous. I obviously feel for all the other people waiting to hear."
Mayor Bob Parker said Ms Bodkin was "one of the miracles of the day".
"When you feel something like that it's a moment of hope and optimism."
Paul Howison was on the third floor of the PGC building when the "floor just sank beneath me". A trio of colleagues were huddling together with a concrete slab above them.
"We had no idea whether that was going to fall down and we would have perished. It was a miracle that any of us survived that experience."
Another 14 people in the PGC building are missing.
Other survivors across the city had arms and legs amputated to free them from the rubble.
Authorities last night feared more buildings would fall, including the Grand Chancellor Hotel, at 26 storeys the tallest building in the city. If it didn't collapse, officials said it would have to be demolished.
Emergency services evacuated several blocks around the hotel after engineers warned it was "on the point of collapse".
Stuart Watchman was on the 14th floor of the Grand Chancellor when the earthquake struck at 12.51pm Tuesday. He thought the shake was a "run of the mill quake" until debris fell past the windows and the floor began to tilt.
"That's when I thought we weren't going to make it."
The news that rescue efforts at the nearby CTV building would stop because the destruction was "100 per cent unsurvivable" devastated family and friends waiting in hope.
More than 100 people are missing inside the wrecked CTV building, including a police officer and Japanese students at an English language school.
Aaron Waine's mother Susan, Chuter, 51, also worked in the building and he had scoured the city in the vain hope she had escaped.
"I'm devastated. It's hard to imagine losing anyone you love," said Mr Waine.
The energy from the earthquake created the greatest ground acceleration in New Zealand history, said Dr Hamish Campbell of GNS Science.
"No wonder so many stone churches were destroyed. They are simply not designed to be thrown up in the air and then go into freefall."
More than 20 people were believed to have died inside the 130-year-old Christchurch Cathedral.
Last night, more than 40 police cordons were in place around the city. Police also evacuated two streets in seaside suburb Sumner, threatened by unstable hillsides.
Superintendent Dave Cliff imposed a 6.30pm curfew in downtown Christchurch. Anyone found there would be automatically arrested after six people were caught looting earlier.
Prime Minister John Key also declared a national state of emergency to aid the Civil Defence response and said $6 billion was an early estimate of the clean-up costs. But he did not dismiss a $16 billion estimate from JPMorgan - twice the cost of the September quake.
"These deaths are the greatest loss. They remind us that in the end buildings are just buildings, roads are just roads. But people are irreplaceable," said Mr Key. "Know that your humanity is more powerful than any act of Mother Nature."
Mr Key was humbled by the offers of international help and messages of support, including from United States president Barack Obama.
Urban search and rescue teams had worked through the night, scouring six sites for survivors, said Civil Defence national controller David Coetzee.
Remote control helicopters with cameras attached were also being used to scope damage in hard-to-reach areas. By tonight, more than 700 rescuers will be on the ground in Christchurch, that number expected to swell to 1000 by the weekend.
Medical staff have also been stretched to breaking point.
More than 150 St John staff travelled to Christchurch to back up frontline paramedics dealing with huge numbers of 111 calls. Patients were troubled by heart and breathing problems, chest pains, as well as crush injuries to heads, chests and limbs.
David Meates, head of the Canterbury DHB, urged all staff to report to work in anticipation of more seriously hurt people being found in the rubble.
Hundreds of survivors were also evacuated from the city yesterday, the Air Force ferrying the homeless to shelter in Wellington.
Corrections Minister Judith Collins said Rolleston Prison would be emptied to free up 320 beds for Cantabrians.
Outside the CBD, authorities warned of the risk of landslides and rockfalls near the quake's epicentre in Lyttelton. Falling boulders cut through a home and killed two people in the nearby Port Hills.
Liquefaction affected much of the suburb of Bexley, water bubbling up through cracked streets. Some sinkholes are as big as a truck.
Power has been restored to most of Christchurch but around 80 per cent of the city was without water. More than 200,000 litres of water was brought in by Fonterra by rail, with a number of supermarkets also opening their doors after escaping unscathed. Oil companies warned motorists not to "panic buy" and run petrol supplies short.
The earthquake continued to lead news bulletins around the world. In an ABC interview, former United States senator Evan Bayh said he was in Cathedral Square with his wife when the earthquake struck.
A man threw him to the ground, but the woman next to him was hit by a huge piece of concrete. "Let's pray for the people of New Zealand," he said.
$16 billion
JP Morgan damage estimate
1000
number of rescuers by this weekend
40
police cordons in the city