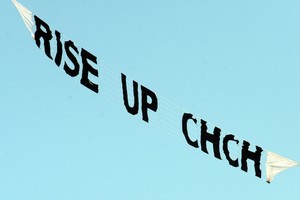 A banner flies over the Earthquake Memorial Service at Hagley Park, Christchurch. Photo / NZPA/Ross Setford
A second huge earthquake in a matter of months has devastated the homes and lives of many Cantabrians.
The official death toll now stands at 160 and is set to rise in the coming days.
Tuesday's 6.3 magnitude quake followed over 4000 smaller aftershocks in recent months.
Send your messages of support to those affected by the earthquake: