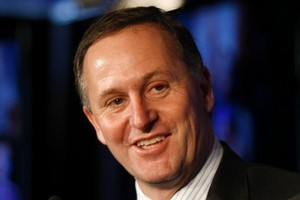 Prime Minister John Key. Photo / Steven McNicholl
The Government should have known about the purchase of 34 new BMW limousines for ministers, but Prime Minister John Key learned of the multimillion-dollar deal from his chauffeur last week.
Mr Key and the Department of Internal Affairs yesterday faced more questions on why - as other departments are under pressure to save money - the existing fleet of BMW 730Ld vehicles is to be replaced with new models after just three years of use.
Mr Key said he was "surprised" the department had not run it by him or other ministers.
"Politically we should have known about it, but we didn't."
Speaking at the Te Matatini National Kapa Haka Festival in Gisborne today, Mr Key said: "I think it's not a terribly great look and the Government has a no surprises policy, so I'm surprised we weren't told.
"The only excuse that's been offered to me is that because it was a six year-contract effectively signed by Labour, the department believed it had operational authority to make that decision.
"Maybe economically... that made sense but there's a political element of it and at a time when New Zealanders are tightening their belts having ministers are driving around in flash new cars is never a great look."
After initially saying it had to purchase the new vehicles according to the contract negotiated by the Labour Government, the department yesterday said that was not true.
"The contract did not commit the department to purchasing any particular number of vehicles," a spokesperson said.
Mr Key said it was "too late to speculate" on whether his Government would have approved the purchase "because unfortunately those cars are going to turn up in New Zealand and on the information I have it would be more costly to send them back than to carry on with the contract".
He said if Internal Affairs had raised the issue, the outcome may have been different - although breaking the contract early may have a larger financial cost.
Mr Key understood the deal did represent value for money for the taxpayer.
"Financially it was actually a better deal to exercise the option than not to."
Internal Affairs yesterday said the value of the cars being replaced "is close to their purchase price". The department could not say exactly how the older cars would be disposed of, but it would be on "the open market", possibly via auction.
When the original purchase was announced in late 2007, the Herald reported the vehicles were priced at about $170,000, but the Government paid less than $90,000 each.
Clive Matthew-Wilson, editor of the car buyers' Dog & Lemon Guide, said the cars were likely to fetch $55,000 to $65,000 each at auction now or up to 30 per cent more than that if sold via a dealer.
The new cars have a list price of over $200,000 each, and while the department will be paying much less than that, it yesterday refused to disclose the purchase price.
Green Party co-leader Metiria Turei called on the Government to release all the figures relevant to the contract, "and demonstrate to the public that it is a wise economic move".
FOR SALE
34 2008 BMW 730Ld limousines
* One owner.
* 3 litre, 6 cylinder diesel.
* 6 speed auto.
* 170kw.
* 0-100 km/h 7.2s.
* Recommended retail price: $170,000 three years ago.
* Expected to fetch $55,000 to $65,000 at auction