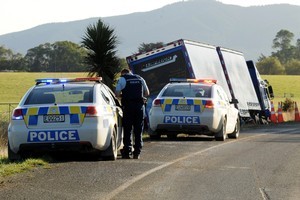 A passing motorist rescued a two-year-old girl from a burning car after a crash in which a mother and her daughter, 6, were killed.
Phillipa Jane Manning, 43, from Waihola and her daughter Rebecca Katherine Coulter died when their car collided with a truck and trailer and erupted in flames near Milton last night.
Emergency services were called to State Highway 1, 4km south of Milton, near the intersection of State Highway 8, at 9.35pm.
Ms Manning and her daughter died at the scene.
A motorist who witnessed the accident rescued the two-year-old girl who was then airlifted to Dunedin Hospital in a serious condition.
Diversions were put in place, and the road was reopened at 4am.
Police from Dunedin and Balclutha are investigating the cause of the accident.