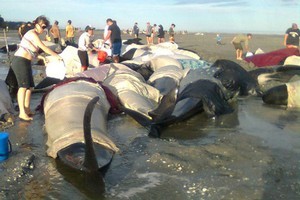 A group of 65 whales have made it into the open water after becoming stranded near Farewell Spit over the weekend but the Department of Conservation (DOC) fears they could restrand.
DOC staff along with hundreds of volunteers managed to refloat 65 of the original group of 82 whales which came ashore three times since Friday, DOC Golden Bay area manager John Mason said.
Seventeen whales did not make it.
The surviving whales were last seen yesterday evening swimming off Puponga, at the base of Farewell Spit, where they looked as though they were going to restrand, before a group of volunteers redirected them to deep water, Mr Mason said.
"We've been out there again this morning, looking along the beaches, and there's no sign of them, so we're hopeful that they're back in deep water and safe," he said.
Mr Mason was not "entirely confident" the whales would not restrand, but the longer they were out in deep water the better the chances they would not come ashore.
Mr Mason thanked the hundreds of volunteers who had helped refloat the whales and said DOC could not have done it without them, he said.
"We've had literally hundred's of volunteers out there helping us."
Mr Mason said whale strandings were reasonably common near Farewell Spit, which was thought to confuse the whales.
"The most common theory is they get confused in the large shallow area at the base of Farewell Spit.
"It's believed because the whales have got a sonar detection system that they get confused in the shallow water and can't work out where the open sea is."
Pilot whales are about 4m-6m long. They are the most common species of whale seen in New Zealand waters.
Last month 24 pilot whales died after stranding in Parengarenga harbour, near Cape Reinga in the Far North.
In December 2009 more than 120 whales died in two separate beachings at Farewell Spit and Colville Bay, north of Coromandel.
In December 2006, rescuers managed to save the majority of 140 pilot whales stranded at Puponga. But just two weeks later, on New Year's Day 2007, 50 whales died after beaching at Farewell Spit.
- NZPA