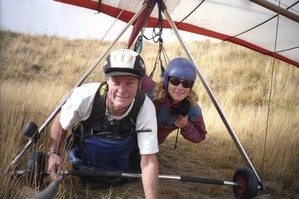 Seven years after the death of a Greek tourist triggered a re-write of aviation law, a new rule has been drawn up for adventure tourism sector flight operators.
All adventure tourism businesses will require "air operator certification" for tandem hang gliders and paragliders, hot air balloons and microlights, a Civil Aviation Authority (CAA) spokesman told NZPA today.
The rule change will require approval by cabinet.
Until now, commercial hang-gliding and paragliding have been governed by CAA through the New Zealand Hang Gliding and Paragliding Association: all hang-glider and paraglider pilots wishing to fly in New Zealand have to be members of the association.
Primarily an amateur sporting and recreational organisation, the association has handled the registration of commercial pilots and has had reporting and investigation procedures for crashes.
Drafted as growth of passenger numbers soared in the adventure aviation industry, the new rule will require adventure aviation operations to have certificates similar to those for the general aviation market.
This would ensure compliance with relevant safety standards, the training and supervision of employees and the maintenance of equipment, a CAA policy report said.
The CAA will also have specific power to suspend or revoke certificates when operators failed to keep to legal requirements.
The CAA last month used - for the first time - the Civil Aviation Act to prohibit a Christchurch balloon company from operating: it could not suspend the company's air operator certificate because ballooning operations were not currently required to hold one.
Work on the new rule was triggered in 2003 when Queenstown tandem hang-glider pilot Stephen Richard Parson failed to clip on Grek tourist Eleni Zeri, 23.
Ms Zeri fell to her death from a Sky Trek commercial hang-gliding flight near Queenstown, a minute after telling the pilot she could no longer hang on.
Mr Parson was sentenced in the High Court at Invercargill to 350 hours' community work and ordered to pay $10,000 reparation.
Ms Zeri's mother had asked the CAA to become responsible for making sure people took more care in the hang-gliding industry.
Mr Parson, now operating Hang Glide Vancouver Island in Canada, said this week he felt terrible that his latest student - a Canadian man - is now in a coma in hospital after crashing on a training flight.
Marv Trudeau, 60, a local tree feller, is in a critical condition, the Cowichan News Leader newspaper reported.
Instead of making his solo flight straight to a landing zone, Mr Trudeau instead flew out in front of cliffs and got caught up in winds there.
- NZPA