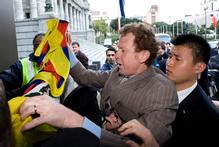 Wellington police say they will investigate a complaint from Green co-leader Russel Norman over an alleged assault at the hands of the Chinese Vice President's security staff.
Wellington Police Area Commander Inspector Peter Cowan said Dr Norman made the complaint this afternoon.
"His complaint will be assessed and investigated as quickly as possible," Inspector Cowan said. "It's too early to say what the outcome will be."
Part of the investigation will include speaking with witnesses, viewing pictorial coverage and liaising with the Speaker of the House, who gives permission for lawful protests to take place in Parliament's grounds, police say.
Dr Norman is outraged that members of a Chinese delegation were able to push him, hit him with an umbrella and rip a Tibetan flag from his grasp.
He was protesting as Chinese Vice President Xi Jinpin arrived at Parliament greeted by a few dozen pro-China supporters.
Some of the group, believed to be Chinese security, took exception to Dr Norman waving a Tibetan flag and calling for democracy.
The MP brushed away attempts to have an umbrella placed in front of him, then clashed with security guards as they pulled the flag from his grasp and threw it on the ground.
He yelled they could suppress freedom of speech in China, but not in New Zealand.
Afterwards he told media he was shocked by the incident.
"I think it's pretty outrageous that Chinese security can come to our country and push around an elected member of Parliament simply because we are standing up for democracy and freedom in our own country on our own Parliamentary grounds," Dr Norman told reporters.
In a press release from the Green Party, Dr Norman said: "I've laid a complaint with the Police because New Zealanders need to know they are free to speak without fear of violence or recrimination."
He said it seemed most security were Chinese, rather than local.
"Certainly the New Zealand security didn't seem to give a lot of assistance...I mean the Chinese security guards elbowed me out of the way, and then I got an umbrella over the top of me and they took the flags off my hands and trampled on it and there wasn't a lot of support from New Zealand security, that I could see.
"In our country we respect democratic rights and freedom of speech and members of parliament and all citizens of New Zealand should have the right to speak out."
Dr Norman said he was roughed up and his flag trampled before he got it back.
"I will certainly be speaking to the Speaker of the House about whether it's acceptable for a foreign country's security services to rough up a member of parliament on parliamentary grounds, I think that's totally unacceptable."
Political editor Barry Soper, who witnessed the scene, said the security contingent was very rough with Mr Norman and described the incident as "quite extraordinary".
"Chinese security - and there are very large numbers of them - roughed (Mr Norman) up in a way that I've never seen a member of Parliament treated," he said.
"He had the Tibetan flag ripped from him and trampled on by the Chinese security. He was prevented from getting anywhere near the vice president.
"If somebody does want to wave a Tibetan flag, which is clearly offensive to the Chinese ... well, we live in a democracy and should be able to express our views in the way Russel Norman did."
Dr Norman was following in the footsteps of late Green party co-leader Rod Donald, who also had a set-to with a Chinese delegation while protesting for Tibetan rights.
- NZ HERALD STAFF, NZPA, NEWSTALK ZB