It's a high-profile international book release. But was The Wives of Henry Oades based on a long-forgotten New Zealand marital scandal, as claimed, or on an elaborate 19th-century hoax? Matt Nippert investigates.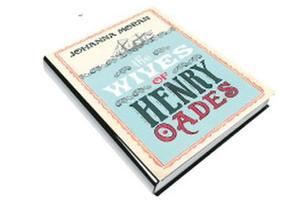 Slavery by Maori, unjust courtroom persecution for bigamy, heartache in Wellington - the story has it all. Henry Oades, an English accountant with a farm near Wellington, loses his first wife and children, presumed killed in a Maori raid.
Grief-stricken, he abandons New Zealand, moves to California and marries again - only for his wife and children to turn up alive and well on his American doorstep, years later.
The Wives of Henry Oades, a work of historical fiction by first-time Florida-based author Johanna Moran, published in New Zealand this month, is an unconventional love-triangle with a basis in recorded history.
Moran sketches the travails of Henry, Margaret and Nancy Oades in a tale that culminates in Henry's bigamy trial before the California courts.
The review copy of the novel, an uncorrected proof, notes the story-behind-the-story was based on details of a bigamy case found by the author's father in San Francisco court records.
And, delving into 19th-century newspaper archives, it appears Moran has unearthed an extraordinary long-forgotten episode of New Zealand history.
Reports of Henry Oades first ran in the now-defunct Los Angeles Evening Express on December 16, 1873. As the story slowly spread across the United States, then to London and New Zealand via courier and ship, stories ran in outlets as varied and august as the Wanganui Chronicle, the New York Times, the North Otago Times and Pall Mall Gazette.
The Los Angeles reporter's non-fiction accounts from the time far eclipsed Moran's historical fiction in sensationalism.
"On this trial it was proved that about eight years ago Oades was living in Wellington County, New Zealand, on the frontiers; when without warning, the Maoris - a tribe with whom the English were at peace - made an inroad into the settlements," the Evening Express reported.
"Oades was at the time temporarily absent in Victoria, and returned only to find his homestead burnt and his family disappeared. Some human remains were found in the ruins; and from this and from such information as he could gain during the ensuing two years he was gradually forced to the conviction that his wife and children were dead; and being loath to remain amid the scenes of his distress he left New Zealand and came to California."
But the story got better, with the arrival of Oades' first wife and children in California.
The newspaper recounted an interview with Oades' second wife: "Oades, she said, had sworn that if she attempted to annul his second marriage he would not only beat her half to death, but he also would never live with her any more; that she wouldn't mind the beating so much, but that she preferred to submit to the present state of circumstances rather than lose Oades altogether."
Lacking a complaint from either wife, and because remarriage is legal if one partner genuinely believes the other dead, Oades was sensationally acquitted of bigamy.
The moral majority, however, gathered to discuss how to debate the court verdict. "The silence was relieved by a prominent citizen of Los Angeles, who proposed to hang Oades. "This," he said, "was a very common way of arranging such affairs in Los Angeles, and it has always met the public approbation except on one occasion when, indeed, they had perhaps gone a little too far in hanging 17 Chinamen."
The story ends with an action-packed chase as Oades flees and the lynch mob gives chase: "Oades, after a close race, reached his house where he barricaded himself and drove off the crowd with a shotgun."
Taking this report as inspiration, Johanna Moran wrote her novel, featuring two wives and spanning three continents. There's a long sea voyage, a difficult life in colonial Wellington and years spent by a woman and her children in slavery to Maori.
Moran moved the timeline, shuffling the year of the trial to 1890 and switching the setting from San Bernardino to San Francisco.
"I was fascinated with Berkeley at the turn of the century," she says.
Her Oades is a kindly man, racked by grief, who deals as well as he can with an impossible situation. But on the trail of the real Oades, this curious story gets even curiouser.
In Wellington's National Archives digitised collection of 19th-century newspapers, the only mention of Oades is in mid-1874 reports sourced from the trial reports in newspapers in New York and London. Alexander Turnbull Library research librarian Peter Attwell says the absence of such a sensational story from newspapers of the time is strange. The Wellington farm being raided by Maori, and women and children believed killed in the mid-1860s, would have sparked news coverage - as would Oades' family's miraculous escape from captivity some years later.
"The story, if it really did break, would have been in Wellington's Weekly Mail. There's no mention of anyone by that name," Attwell says. He trawled the library: "I've had a look in our records to see if there's any mention of Henry Oades. I haven't managed to find anything."
And Wellington iwi Ngati Toa, no strangers to warfare in the days of Te Rauparaha, can't recall any raids or slave-capturing missions during the time in question, either.
Ngati Toa's former Treaty of Waitangi claims manager Miria Pomare says: "It sounds too late for that sort of activity to have happened. If it was the mid-1840s, and was based in the Hutt Valley, then there's a remote possibility of something like that." Told the whole story of the Oades saga, Pomare is sceptical. "It's an incredible story - unbelievable even," she says.
Doubts were raised with the publishers of Henry Oades in August last year, six months before the book was released, when Englishman Richard Myers wrote to US commissioning publishers Random House, claiming he was an Oades descendant.
"He looked forward to reading my book and in no way was he trying to cast a bad shadow over it. He was mostly curious," Moran told the Herald on Sunday. "But he was quite adamant this was a hoax."
Contacted by the Herald on Sunday, Myers said his research found that it was 1908 - well after the events in question - before any Oades arrived in New Zealand and the only Oades in the United States at the time of the bigamy trial was living in Nebraska.
For her part, Moran said Myers' letter was troubling. "It did throw me at first," she said. But, on the balance of probabilities, Moran said she still believed the story to be true. She believed the controversial Oades - painted as an alcoholic, wife-beating bigamist in newspaper reports - was likely a black sheep of the family.
Further, the tales of Oades and his two wives had been part of Moran family history. Her father, a law professor, came across the abstract in a legal text and passed it to her mother - a budding, but never blooming, short-story writer - to use as inspiration.
"I don't believe it was a hoax. I base it on the fact that it appeared in a Harvard Law School text 70 years after the fact," she said. "I don't believe a Harvard Law Professor would get taken in by a hoax."
Stuart Walzer, a prominent California family law attorney, also came across the strange story of Oades at Harvard, where he was a student in 1950.
The case was included in a course textbook, Readings in American History, the same text in which Moran's father first came across Oades. As Walzer writes in a 1991 article for legal journal Western Legal History, the story was wildly popular.
"To the delight of every law student, it contained a 19th-century account of a bigamous California marriage, with humorous and racy overtones," he writes, "I thought it too good to be true".
Tracing the original reportage, Walzer reprints the widely circulated Evening Express story from December 16, 1873 - and also includes a little-publicised follow-up published two weeks later: "A short time ago, we published an imaginary case of bigamy, to show that under the new California Codes a man may have two legal wives.
"The case was artfully worked up by the author, and by a process of reductio ad absurdum she showed a defect in the codes which could not have been so strikingly illustrated in any other way. And now some asinine reader from San Bernardino gets mad at us for publishing the case. The ninny! He thought every word of it was true!"
Polygamy in 1870s California was a hot political issue, partly driven by anti-Mormon hysteria.
It seems the hoaxer from the Evening Express, in seeking to close loopholes in bigamy laws, was successful beyond all intent. The story ended up sucking in 19th-century newspaper editors, 20th-century law professors and a 21st-century novelist.
The Herald on Sunday sent Moran the Walzer article several days after first speaking to her. "It came as a bit of a shock," she says.
Moran says the Oades story has been part of her family lore, after it was passed from father to mother, and then down to daughter, over the past 40 years. "It was a big part of my life. I heard the conversations, I heard my mother discuss it, then she gave it to me. This was one of the facts of my life," she says.
Writing Henry Oades was a nine-year effort, she explains, and the revelation her inspiration was an elaborate hoax makes her question the near-decade she spent writing.
Would she have written the book had she known the story of the real Oades? "I really don't know. I don't know if I'd have even started it," she begins. Collecting herself, she continues. "I take that back ... I was compelled by the unfairness of the story."
She says her Henry Oades didn't set out to have a polygamous relationship, but was persecuted for trying to do right by both of his wives. Casting either out of the house would be an injustice, she says. "I thought it was unfair they weren't able to have their family life undisturbed."
American writer James Frey was lambasted for having fictionalised large elements of his memoir, A Million Little Pieces.
But Moran's book, a work of fiction, cannot - and should not - be subjected to the same criticism. Like Booker-nominated New Zealand novelist Lloyd Jones' Biografi, who was criticised for blurring the lines between fact and fiction, Moran presented her story as fiction.
Victoria University associate professor of English Mark Williams says: "Fictions are by definition untrue - lies of a benign variety."
US-based literary critic Jolisa Gracewood, best known for discovering large chunks of Witi Ihimaera's book The Trowenna Sea were plagiarised, says the truth of Henry Oades will come in the writing, not the back story.
"It doesn't really matter whether the inspiration comes from real life or from an urban legend ... What matters is that the author transforms it into an original, persuasive and affecting work of fiction." Gracewood does add a kicker, though: "If it's being promoted as 'based on a true story', the publishers might want to rethink that strategy."
And, it seems, publishers have quietly backed down from claims that Henry Oades was based on fact. The back cover note to the New Zealand release has now been changed from that on the review copy, to say the story is "based on a widely-publicised and controversial newspaper account of the 1800s".
However, it seems at least part of the interest Henry Oadeswas due to its original claim to be based on fact.
One online reviewer, in a glowing write-up, notes: "I would not have believed this story if I had not read beforehand this was true."
The last word in the strange saga can go to to Bill Manhire, director of Victoria University's Institute of Modern Letters. "All the good stories," he says, "are too good to check." - The Wives of Henry Oades, by Johanna Moran (Harper Collins, RRP $33)