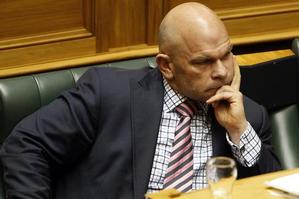 Relations between the Government's two support parties have soured, with Maori Party co-leader Tariana Turia accusing Act leader Rodney Hide of playing the race card over his threat to resign if the Auckland Council gets Maori seats.
The pair have prided themselves on their good relationship and Mrs Turia has been a guest speaker at the Act conference.
But yesterday, she said it was "sad for the country when we have a politician who continues to play this card every time there is a significant issue".
Mr Hide was trying to appeal to a "particular sector of New Zealand" that he knew existed, Mrs Turia said.
Mr Hide faced attacks in Parliament on the issue. Labour accused him of grandstanding to lift his party's low poll ratings, but he said he had not intended to make his stance public.
Mr Hide said he had apologised to Mrs Turia because he had not intended for his position to become known and he had not been grandstanding.
He said he told Prime Minister John Key on June 3 that he could not be the minister sponsoring a bill with race- or tribal-based seats on the council and he had done that not as a threat but to ensure there were no surprises in the coalition relationship.
"We believe in one law for all," Mr Hide said in Parliament, "every citizen having a vote of equal value, and every position of political power being open to every person in fair and free elections."
On Tuesday, National MP Tau Henare wrote to his caucus colleagues asking for their support for Maori seats on the Auckland Council and saying Mr Hide had threatened to pull his support from National if they went ahead.
Yesterday, Labour Party leader Phil Goff said the situation had the potential to "destabilise" the coalition arrangements.
"If John Key allows himself to be blackmailed in that way, that has serious implications for the National Government's relationship with the Maori Party.
"I think it's a classic case of the Act tail wagging the National dog. He [Mr Hide] is worth 2 per cent and yet he is dictating to the Government that there should be no Maori representation in a city that will represent 1.4 million people. That's not right."