Have you noticed anything that could have caused the deaths on North Shore beaches? Has your dog fallen ill?
Email the Herald Newsdesk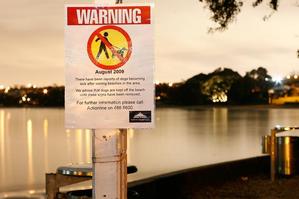 Health authorities have issued an alert for all eastern Auckland and Hauraki Gulf beaches following the death of two dogs and illness in more than a dozen others.
They advise against swimming or taking children to any beaches in the region because an unknown poison is suspected to have caused the dog deaths.
More than 1000 fish and some penguins and seabirds also washed up dead around the same time dog owners began reporting their pets' illness.
The Ministry of Agriculture and Forestry is carrying out urgent tests to find out what killed the dogs and fish that washed up in Rodney District and at Long Bay. There have been unconfirmed reports of dogs becoming seriously ill on beaches as far afield as Eastern Beach in Manukau and Waiheke Island.
At least a dozen have shown similar symptoms to the dead dogs - vomiting, staggering and frothing at the mouth - and new cases are still being reported.
Last night Auckland Regional Public Health Service said it was unable to rule out risk to the public until test results were received. It strongly recommended people avoid contact with sea water and sea life, not take children or pets to the beach, and not gather shellfish in the Hauraki Gulf.
A Ministry of Agriculture and Forestry (MAF) spokeswoman said tests on the gut contents of the first dead dog turned up nothing reliable. They showed no evidence of toxic algae - one of the theories for the poisoning. Results of a post-mortem on the second dog were expected at the end of the week.
Other theories suggested yesterday included jellyfish and puffer fish.
A MAF spokeswoman said fish tested so far had been too rotten and asked anyone who found a fresh dead fish to quickly call the ministry's free helpline.
The Department of Conservation rejected suggestions the poisoning could be related to rat poison being dropped over Rangitoto and Motutapu Islands, saying brodifacoum poisoning was slow to appear, unlike recent reports of dogs dying almost instantly.
North Shore City Council put up signs warning owners not to walk dogs on any of its east coast beaches, where many of the poisonings have occurred.
But vets in the area were still seeing dogs whose owners had not got the message. A nurse at Bayvet veterinary clinic in Browns Bay reported seeing three dogs with poisoning symptoms yesterday.
Manukau City Council said a woman called and reported five dogs that were ill over the weekend after walking on Eastern Beach.
Veterinary Association spokesman Wayne Ricketts said the poison appeared to act quickly and people whose dogs became sick should immediately take them to the nearest vet.
Browns Bay dog owner Joanne Manning said the council should have acted sooner after learning that Long Bay was "covered" in dead fish last week. She cancelled her German shepherd's daily walk on the beach yesterday only after a friend called to warn her.
North Shore vet Reg Gregory treated a labrador that became seriously ill with neurological problems after a walk in Browns Bay and described it as "extraordinary to see".
Dean Coleman, commodore of Wakatere Boating Club in Devonport, said the warning could affect the youth sailing classes held at the club on Saturday afternoons. This involves 30 junior sailors, aged between 10 and 15.
If the health warning continued through to the weekend, the club would cancel the session, Mr Coleman said.
Five years ago a virus killed large numbers of fish in the Waitemata Harbour, mainly pilchards, and there were similar reports of dead fish in 1998 and 1993.
* MAF hotline: 0800 809 966