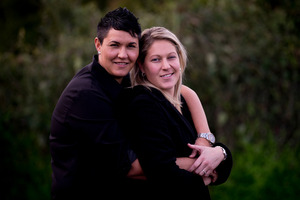 I feel very proud to have had my marriage equality bill pass through the New Zealand parliamentary process with support from across the House.
And today we can celebrate the reality of our law change, which allows any two people who love each other, regardless of their sex, sexual orientation or gender identity, to commit to one another in the institution of marriage.
I am looking forward to celebrating the wedding of Natasha Vitali and Melissa Ray, the winners of the ZM marriage competition.
I want to acknowledge the Rev Tittle, who responded to the need for an alternative venue when St Matthew's was no longer available, and look forward to attending the ceremony at the Unitarian Church in Ponsonby.
The celebrations after the ceremony will go on for some time and it is a privilege that I have been invited by Natasha and Melissa to share this special occasion. It will be a day to remember, not only for those of us in attendance but for our community as a whole.
I understand that there has been a lot of interest in downloading the new forms that Internal Affairs has produced and that throughout the country there are 31 couples marrying today. I hope those who have expressed opposition through the process are able to see how important this recognition of equality and human rights is to the family and friends of those who will marry and for the LGBTI [lesbian, gay, bisexual, transgender/transexual and intersexed] community.
My hope is that the joy is contagious and shared by all New Zealanders.
Debate on this article is now closed. Readers are reminded to keep their language to a publishable standard.