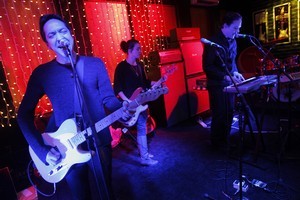 It's surprising, given Jon Toogood has been making a rock 'n' roll racket for more than 20 years now, that he's never ventured out on his skinny little lonesome. Then again, Shihad have always been a solid musical unit, give or take a few misdeeds and ill-fated decisions. So he's probably never felt the urge. And even with the Adults - a band that includes Shayne Carter, Julia Deans, Tiki Taane, and others - he's not flying solo, although it is his baby. But it's the many voices and different musical styles and touches that makes The Adults an eloquent and affecting rock record.
Opener One Million Ways is as Shihad as it gets, but you have to wonder what die-hard fans might make of prettier songs like wistful Anika Moa collaboration Sleep Me Tight and the breezy A Part of Me. These are countered by the eerie, almost volatile mood of Up and Gone, the cool, thudding mope of Long Way Off (both of which are what you might imagine a collaboration between Dimmer and Shihad to sound like), and sonic soul stomper Nothing to
Lose (with Ladi6) really is one of the best local songs to surface in a long time.
Then there are poignant, stirring songs like Reunite, the lovely sadness of Anniversary Day (with Julia Deans) and final track Please Wake Up, which stretches out over seven minutes into a beautiful intensifying slumber.
It's a collection of diverse yet very listenable songs, which is just what you'd expect from a discerning bloke who's about to hit his 40s.
Stars: 4/5
Verdict: Distinguished not-so-solo solo project from Shihad frontman
- TimeOut