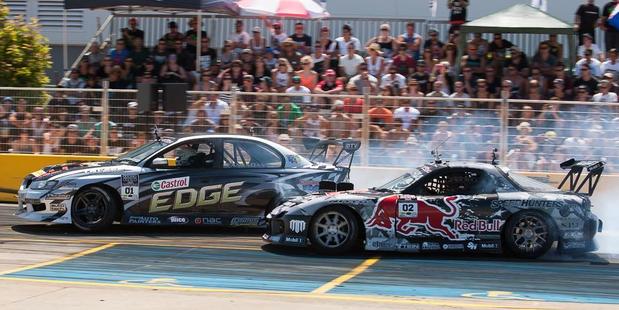 The D1NZ National Drifting Championship arrives in Taupo this weekend for round four of the title chase with international drifter "Mad Mike" Whiddett leading a chasing pack of five drivers who all have a chance of turning the points table on its head this weekend.
The Achilles Radial-backed round - the second of three which also carry points for the BP Ultimate Triple Crown - has attracted a 60-plus field across the D1 Pro and Pro-Am classes, and with three different winners so far this season, picking a winner will be anyone's guess.
The infield drift section at the Taupo Motorsport Park is generally regarded by the drivers in the series as one of the best in the country.
"It's a fun section," said Whiddett, "Because it's got elevation changes and though it's a bit more open and while the speeds are a lot faster than on the stadium courses it's still quite technical."
Whiddett, in his distinctive Mazda RX7, and second placed Gary Whiter will be eyeing each other but the man to watch could just be Kiwi V8 Supercars racer Shane van Gisbergen who has been a bit of a revelation in the series.
He's been sharing a Ford V8 with Shane Allen and is looking forward to the wide-open real estate of the Taupo track.
"I'm looking forward to this weekend as our car suits the big open fast tracks, having so much horsepower and weight," said Van Gisbergen.
"It's been a bit tough for us on the tight tracks so far so I'm really looking forward to it [Taupo] and giving it a crack on an open one [circuit]."
After a toe-in-the-water exercise last season, Van Gisbergen committed to do all six rounds of this year's championship and after his first podium (third) at the opening round of the series is looking forward to repeating the feat.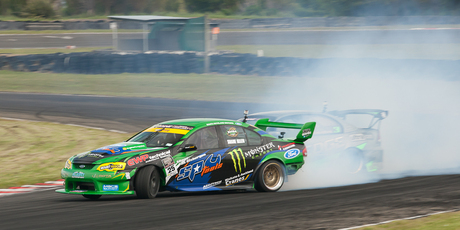 "We did really well there [Taupo] last year so with all the upgrades and developments to the car since then it should be much better. We did well to get on to the podium earlier and if I can get inside the top five this weekend we'll be stoked.
"The points will also be good because we fell away at the last round after having clutch problems and dropped from third in points to being seventh [equal]," said Van Gisbergen.
Andrew Redward will also be one to watch. After shoulder surgery he had to miss the round battles at Whangarei in December, but he stormed back to win the third round at Mount Maunganui in January.
"You can't give up. There's always a chance even if someone is 100 points ahead of you," said Redward. "If Mike has any issues this weekend he could easily go out in the Top 32.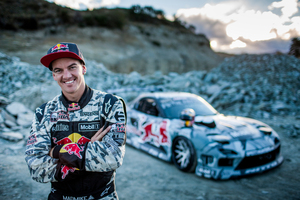 "Taupo's definitely one of the fastest tracks we run on."
Sitting second in the series points standings after a win at the first round, runner-up at the second and early shower at the third round is three-time former D1NZ champion Gary Whiter, just 77.5 points behind Whiddett.
Youngster Nico Reid is a further 28 points back with only half-point gaps to 2011/12 series champion Curt Whittaker in fourth place and Redward in fifth before a one-and-a-half point break to defending title holder Daniel Woolhouse in sixth.
In the Pro-Am support class, Tom and Joe Marshall sit second and third respectively in the standings, just two (Tom) and four (Joe) points behind leader Troy Jenkins.
There will be action on track both days with D1 practice and Pro-Am practice, qualifying and the first round of battles on Saturday and final Pro-Am battles and D1 qualifying and battles on Sunday.

Points after round 3 of 6
1. `Mad Mike' Whiddett - 304
2. Gary `Gaz' Whiter - 226.5
3. Nico Reid - 198.5
4. Curt Whittaker - 198
5. Andrew Redward - 197.5
6. Daniel `Fanga Dan' Woolhouse - 196
7. Darren Kelly - 171
8. Shane van Gisbergen - 171