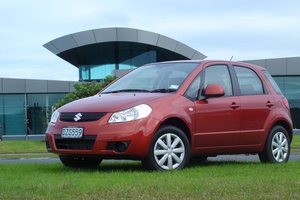 The dilemma
Rosalie has painful, inflamed sacro-iliac joints at the base of her spine which make travel or driving uncomfortable in her Mitsubishi Lancer.
"What I need is a seat where my knees are at least on the level of my hips, if not lower," she says.
"Can these seats be modified in some way? If not, I wondered if you could suggest any vehicles with better seating that may help my situation."
Well Rosalie, "'dropping" into the front seats and "climbing" back out again on any vehicle can become a chore even when the body is in reasonable shape, so I understand your situation.
Unfortunately, I suspect you are not going to be able to modify the seat on your Lancer to your satisfaction easily (if at all), so it may be better to look for a more user-friendly vehicle.
Thankfully, seating position is important to designers, especially for the mainstream fleet where ease of entry and exit becomes a priority for buyers.
The advantage of a raised seating position and seat height adjusters is that it helps with improved vision.
The budget: $10,000
The shortlist
Suzuki SX4 Hatch
Similar in size to the Lancer with an SUV-type design which allows for a high front seat position in addition to a seat height adjuster. The SX4 lives in the shadow of the popular Swift but is a reliable and safe vehicle with the added advantage of having a lot more interior space.
Mitsubishi Colt
Mitsubishi as a brand have come a long way in recent times. The Colt was part of the old school line-up that held the baton as the small car choice for new car buyers until its replacement, the all-new Mirage, entered showrooms recently.
Stick with NZ-new and make sure any pre-purchase inspection checks out the automatic transmission performance thoroughly. Not overly endowed with safety features.
Daihatsu Terios
You would only consider a vehicle like this if the seating position was better than anything else you had tried.
Its high ground stance makes entry and exit simple, with the added benefit of improved all-round vision.
The small 1.3 litre engine is probably all you need for your driving needs, although you may not like the spare wheel hanging off the rear door or enjoy the overall driving experience.
Driven recommends
Give the Suzuki SX4 a go. If the seats improve the comfort levels, then you should enjoy the rest of the vehicle.