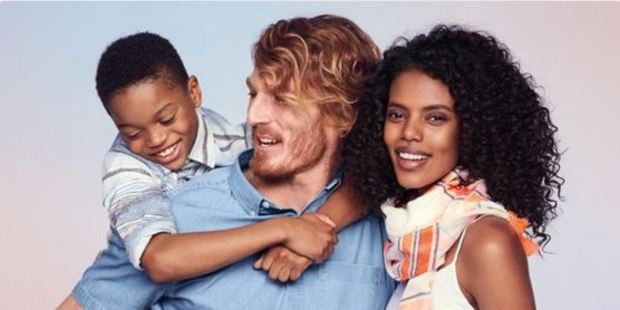 An ad from American clothing company, Old Navy, has spurred a torrent of racist comments.
The ad features an interracial family, alongside a promotion for 30 per cent off purchases.
Oh, happy day! Our #ThankYouEvent is finally here. Take 30% off your entire purchase: https://t.co/nGQ9Pji1pN pic.twitter.com/vq4mIczm6A

— Old Navy Official (@OldNavy) April 29, 2016
However, rather than getting people excited abut the discount, the ad has attracted a wave of racism on Twitter.
The comments ranged from ridiculous rants, to people saying they would never buy from the popular clothing store again.
Old Navy initially replied to the tweets by asking the writers what the problem was, however, as the responses became increasingly bizarre, the company gave up.
@OldNavy Old Navy HATES White babies!
It takes a White mother and a White father to make a White baby.
Stop #WhiteGeocide

— Mary Whittier (@marylovefreedom) April 29, 2016
Okay, @OldNavy just lost my business, @AntiGenocider. They should be running away from such #miscegenation. I mourn our childrens' futures--

— onetrendywoman (@onetrendywoman) December 29, 2015
@OldNavy Absolutely disgusting. What's next? Gender neutral bathrooms? Pedophilia acceptance propaganda?! Never shopping here again.

— M (@GonnaMAGA) April 30, 2016
My family and I will never step into an @OldNavy store again. This miscegenation junk is rammed down our throats from every direction.

— Cultural Combat (@CulturalCombat) April 29, 2016
However, it wasn't long before social media fought back, with many people posting pictures of their own interracial families in support of the ad.
@OldNavy #lovewins always ???? thank you for such awesome representation!!! We appreciate it. pic.twitter.com/CmAPZR5wl3

— lana (@lanadelsmith_) May 2, 2016
@OldNavy from our family to yours, Thank You!!! Families like our will continue to succeed and grow in number! pic.twitter.com/stoTQT2q98

— TJ Willis (@MikesSunshyne) May 1, 2016
@OldNavy thank u 4 this ad.I shared a pic of my bro(who serves his country overseas)and his beautiful family. pic.twitter.com/gOPKcgArVX

— julie king (@julieluvskrazy) May 2, 2016
The male model featured in the ad, Clay Pollioni, took to Instagram to say he was proud to have been part of a campaign that celebrates racial diversity.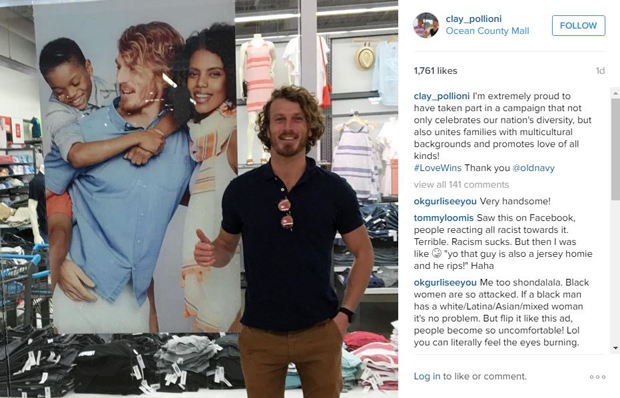 Despite all the nasty comments flying around online, company bosses at Old Navy chose to ignore the haters.
"We are a brand with a proud history of championing diversity and inclusion," Old Navy spokeswoman Debbie Felix told The Huffington Post. "At Old Navy, everyone is welcome."
-nzherald.co.nz