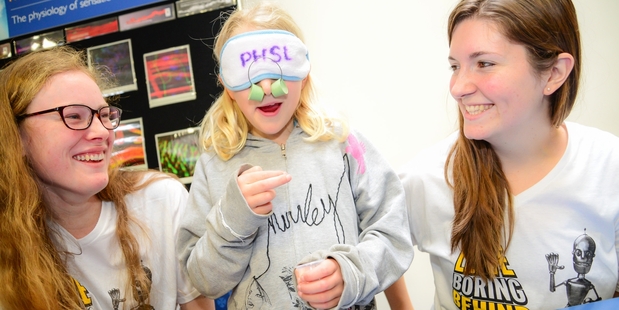 Maddie Hannah's got great taste.
The eight-year-old earned the title of "super-taster" after triumphing at a jellybean science experiment, hosted at the New Zealand International Science Festival in Dunedin.
Maddie was fitted with a blindfold and a nose clamp by Helen Waddell and Rosalind Cook from the University of Otago's Department of Physiology and asked to pick the flavour of a jellybean.
Ms Waddell, a research assistant, said the point of the test was to explain olfaction — or how special cells in our nasal cavities allow us to taste and smell.
Eighty per cent of our flavour perception can be attributed to this process.
"So when you taste a flavour, your tongue is tasting very basic flavours like sweet, sour or bitter — but it's actually your nose that's going to be able to tell you whether it's banana or apple."
While most visitors to the university's science expo failed to distinguish between the jellybean flavours until they unclamped their nostrils, Maddie managed to guess each one correctly.
"She's obviously pretty good at tasting," said impressed mum Amber Hannah.
This year's festival, featuring 120 events and a line-up of international speakers on everything from great white shark conservation to the science of whisky, runs until Sunday.