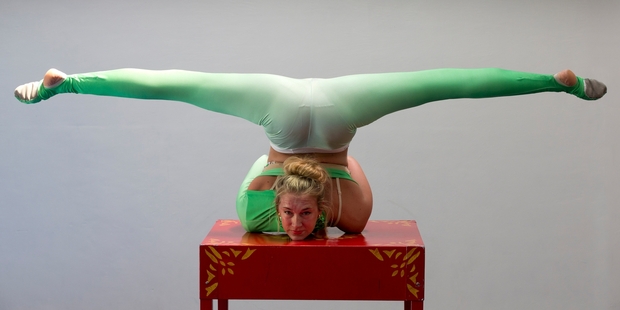 She grew up in Whangarei as a ballerina and a vegetarian, but 23-year-old Emma Phillips is back as a Mandarin-speaking acrobat who loves eating duck heads.
For 20 months, the 23-year-old has trained as the sole European student with 180 young Chinese acrobats at the Wuqiao Acrobatics School in Wuqiao, Hebei, China.
Specialising in foot-juggling a solid wooden table, Chinese parasols and spinning carpets combined with contortion, she has been performing alongside Chinese acrobatic troupes at circuses and stadium shows across China.
But she is "extremely excited" to be back in New Zealand for her first Chinese New Year performance at the ASB Showgrounds today.
"In China, Chinese New Year celebrations is a really full-on thing with fireworks and firecrackers going on 24/7 for the entire 15-day duration," she said. "It'll be really interesting to see what the celebrations are like in Auckland."
Her love for the performing arts began when she joined a ballet school as a child, but she dreamed of becoming an acrobat after her dad took her to watch Cirque Du Soleil in Auckland when she was 15.
"To be an acrobat, China's the place to be if you want to train with the best," she said.
Training was intensive, more than eight hours daily over six-day weeks, and free time was used for visits to fabric markets and sewing her own costumes.
She considers herself lucky to have trained in Wuqiao, which was the birthplace of Chinese acrobatics more than 2000 years ago.
Miss Phillips will take centre stage at 11.35am with two foot-juggling acts performed to traditional Chinese music.