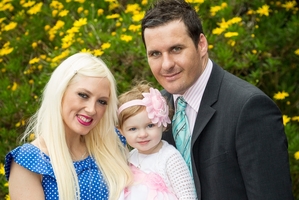 League star Brett Seymour and his wife Roseanne winged back to New Zealand this week to dedicate their baby daughter in their favourite part of the world.
Baby Monroe wore custom-made, sparkly Baby Dior shoes. The white dedication gown has been trimmed in non-traditional pink. "I couldn't resist," said Roseanne, who turned her Auckland wedding in 2011 into a riot of bright pink posies and puppies.
Yesterday's event was held at the Seventh Day Adventist church that Roseanne's father David Hogan attends. He's lived in New Zealand for two years.
Monroe was born in Hull on May 14 last year. Roseanne, 32, said the birth of the 4kg baby girl was a three-day ordeal. "My mum nearly fell over when she saw her," Roseanne laughs. "She was the biggest baby anyone can remember from either side of the family."
Yesterday's excitement follows a tough time for Brett, 29, who suffers depression and tried to take his own life in March. Roseanne says he is getting the help and medication he needs and they are looking forward to starting his new contract with Castleford Tigers on October 28.
"We've had a turbulent year, that's putting it mildly," She said "I really don't know how to put it into words. But Brett's come through his treatment and we are wanting this occasion to be a joyous time with family and friends."
Yesterday's celebrations were attended by many of Queensland-born Brett's former Warrior teammates, the club he played with in 2010-11.
Roseanne said they flew to New Zealand for the ceremony this week because the country holds a special place in their hearts. "We got married here and we absolutely love New Zealand." The lunch after the ceremony was crowned with a rainbow-coloured cupcake tower. Roseanne said Monroe was "such a positive little bubby".