Public transport facilities should be smoke-free from September, panel says.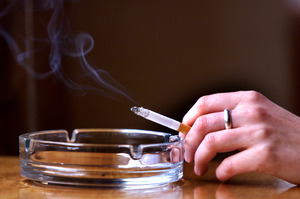 Bus stops, train stations and ferry terminals should be declared "smoke-free" from September, the Auckland Council parks forum has recommended.
This is in response to council officers proposing 2015 as the start date for smoke-free areas at council transport facilities in a draft smoke-free policy.
The forum also voted for outdoor dining areas on Auckland Council land, urban centres, plazas, civic squares and public beaches to be declared smoke-free in 2016, "or earlier if practicable", in contrast to the officers' suggestion of 2018.
The draft policy sets September 1 as the day for parks, reserves, playgrounds, sports fields, outdoor areas at stadiums, libraries, museums and other council-branded buildings to be made smoke-free.
"Smoke-free" means people will be urged by signs not to smoke - voluntarily - as opposed to the introduction of bylaws, an approach which the policy flags for consideration in a 2016 review. Smoking is already banned indoors at workplaces by the Smoke-free Environments Act.
The draft and the forum's advice go to the council's operations committee for a decision in July.
The Cancer Society's Auckland division is pleased the forum has urged the earlier introduction of many smoke-free public places.
"Every year we wait to implement smoke-free measures is another year more children will take up smoking. We need to act soon on smoke-free and not delay," said chief executive John Loof. He lamented the apparent lack of enthusiasm for imposing a standardised smoke-free policy.
The forum noted that "local boards have the allocated decision-making responsibilities for the implementation of the smoke-free policy".
"Unfortunately," said Mr Loof, "it does not seem that council will be rolling out a region-wide consistent policy. This approach conflicts with recent research findings where the public supported consistency."