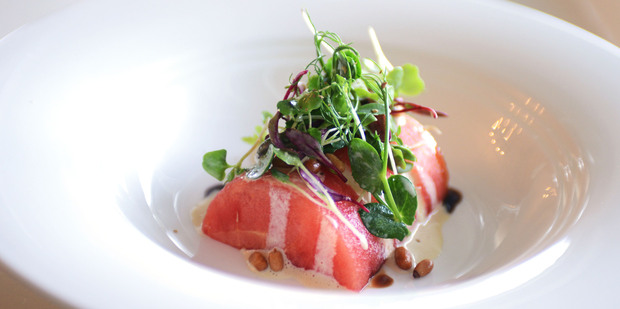 You need a good goat's cheese for this; no cheap feta allowed. You could use other greens - the bitter varieties such as endive, mustard leaf or raddichio. Banyuls vinegar is a specialty French vinegar, made from Grenache grapes but you can use any good white wine vinegar.
Per serving
• ¼ watermelon
• 50g soft goats cheese
• 20g pine nuts
• 150ml banyuls vinegar
• 10g pepper leaf
• 10g wild rocket
• 10g dandelion leaf
• 1 finger radish, sliced finely
• 1 shallot, finely chopped
• 1tbsp Dijon mustard
• 1tsp honey
• 5tbsp extra virgin olive oil
• 4tbsp truffle oil


1. Slice watermelon into 4 cm slices and cut out with
a circle cutter. Cut each round in half. If the watermelon is not sweet enough, juice the scraps. Add sugar to taste and let the watermelon sit in the syrup. Place in fridge to keep cool.
2. Reduce 80ml of the vinegar until sticky, add pine nuts and let cool on tray. Wash all greens ready to use. Place in ice water if necessary.
3. To make dressing, place finely chopped shallot, Dijon, vinegar, honey, olive oil and truffle oil in bowl and whisk together.
4. To make salad take five pieces of half-circle watermelon and place on plate, dress the leaves and radish. Place goat's cheese in sliced pieces on top of watermelon. Scatter the leaves and the radish, sprinkle with pine nuts and dressing.