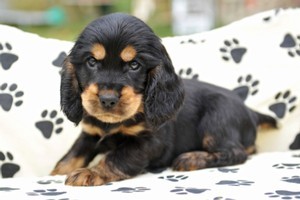 The Duke and Duchess of Cambridge have welcomed a new addition to their family - a three-month-old puppy.
The couple acquired the male cocker spaniel in early December and have been settling him in at their rented farmhouse in North Wales.
Remarkably, however, William and Kate have given palace aides strict instructions not to reveal the name of their pet, arguing that it is a "private" matter.
"He is a private pet and they do not want his name to be made public although the couple are happy to confirm that they do, indeed, have a new dog," said a spokesman at St James's Palace. The pup has not yet been formally revealed in public but has been seen with the couple on beaches near their Anglesey home.
His arrival is particularly timely as he will help keep the 30-year-old duchess company while her husband is posted to the Falkland Islands for six weeks.
Search-and-rescue pilot William, 29, flew out this week with his Sea King crew on a routine deployment to the region.
Kate is expected to spend more time in London while he is away, living with the pup at Kensington Palace.
Yesterday Ladbrokes was offering odds of 10:1 against the dog being named Charlie, 33:1 Bouncer and 66:1 Fenton, after the now world-famous hound seen chasing deer in Richmond Park, which became a YouTube sensation.
Royal sources say the black pup comes from a litter bred by Kate's mother, Carole Middleton, who adores the breed. She has a bitch named Ella, although it is unclear whether Ella is the mother of Kate and William's pet.
The dog is the royal couple's first together and replaces the prince's black labrador, Widgeon, who died about two years ago.
The Royal Family have long been dog lovers. Formal portraits from the 17th century onwards show kings, queens and their children happily posing with their beloved animals, from pugs to greyhounds, King Charles spaniels to corgis - favourite choice of the Queen.
- DAILY MAIL